SPHIS alumna helps develop opioid toolkit for employers
Q&A with SPHIS alumna, Natalie Middaugh, MPH
Name: Natalie Middaugh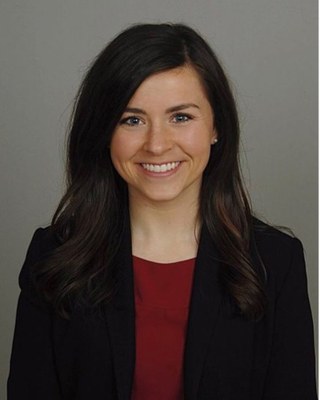 Graduation Date: 2016 & 2018
Degree(s): BA in Public Health & MPH with a concentration in Health Promotion and Behavioral Sciences
Title: Community Health Program Manager.
Employer: Kentuckiana Health Collaborative
How did you get interested in public health at SPHIS?
I have always known that I wanted to work in a health-related field. When enrolling at UofL as an undergraduate student, I had decided to pursue the long-term goal of becoming a Physical Therapist by obtaining a degree in Exercise Science. However, the further I got into the curriculum, the more I realized that something was missing for me. I was interested in a more upstream approach to impacting health outside of the traditional healthcare system.
As if by fate, SPHIS opened enrollment for their inaugural undergraduate class the same summer that I was looking to switch my major at UofL. Although I previously had no idea what public health was, after digging deep into the program offerings and conducting several enthusiastic Google searches, I knew that I had found the field I was searching for.
What positions did you hold during your time at SPHIS? 
I worked closely with the Greater Louisville and Southern Indiana Chapter of the Alzheimer's Association while completing my capstone project. In this role, I worked collaboratively with their programs and services team to support their advocacy and promotional initiatives.
While pursuing my MPH, I worked as a Research Assistant at University of Louisville Division of Infectious Diseases and was responsible for data collection and entry for number of studies. Also, at the Division of Infectious Diseases, I worked as a Regulatory and Financial Coordinator where I was responsible for coordinating research team credentialing and maintaining study compliance.
I also began working at the Kentuckiana Health Collaborative (KHC) part time while I was still pursuing my degree. After graduating, I accepted a full-time position as a Project Coordinator at the organization. In this role, I was responsible for coordinating the development of a toolkit for primary care providers to implement Screening, Brief Intervention, and Referral to Treatment (SBIRT), an evidence-based approach to early detection and screening of risky substance use behaviors.
I have since changed roles KHC to the Community Health Program Manager. In this role, I am responsible for overseeing our organization's community health focused work, primarily around initiatives related to mental health and substance use disorders.
How has your SPHIS degrees aided in your career?
I regularly use the skills that I learned while pursuing my SPHIS degree in my current position. The emphasis my degree placed on health program planning and implementation has proven to be critical in my career. From grant writing, to survey development, to coalition building, to communication campaigns, SPHIS prepared me to utilize these skills in an academic and real-world setting.
Ultimately, SPHIS gave me the educational and personal foundation that I needed to pursue my career in public health. Multiple professors aided me in securing my current position, and I continue to engage with SPHIS today. I feel very fortunate to have completed my journey there as a student, and now collaborate with them as a professional.
What does a day in the life of a Community Health Program Manager look like? 
My day-to-day work is focused on project management, coalition building, and health education. I spend much of my time curating content and planning educational initiatives. I often see these initiatives through from beginning to end, including research, writing, designing, marketing, and actively educating our priority population. At the Kentuckiana Health Collaborative, our foundation is built on bringing together all healthcare stakeholders to collectively address health issues. Therefore, another large focus of mine is consulting our community partners and subject matter experts, forming and leading issue-focused workgroups, and finding ways that our organization can support others in our region.
Opioid Toolkit
"Opioids and the Workplace: An Employer Toolkit for Supporting Prevention, Treatment, and Recovery" is an educational resource for employers in learning best practice, evidence-based data analytics, benefit design, and workplace policies for supporting both their employees and their dependents from opioid misuse and opioid use disorder. This resource was developed by KHC in partnership with the Kentucky Opioid Response Effort (KORE).
The KHC operates as a regional health improvement collaborative, meaning we pull together different stakeholders (healthcare providers, insurance plans, government organizations, nonprofits, etc.) to address health and healthcare issues our community is facing. We used a similar approach in this toolkit's development by consulting a steering committee that included addiction psychiatrists, employers, health plans, addiction treatment centers, pharmaceutical companies, and more to scope out what recommendations we could make to employers to best support the use of evidence-based prevention, treatment, and recovery services and reduce stigma. This groups expertise was supported by research, and ultimately led to the development of a toolkit that is an open resource for employers to learn how they can influence this issue. 
I served as the project lead in the toolkits' development. I was responsible for the research, content development, and consultation with the steering committee as  we developed the toolkit's recommendations. Along with the support of my talented team, we also designed the toolkit and have been presenting it on a national scale since its release. As it stands, I am responsible for rolling the toolkit out to employers across Kentucky and leading an educational pilot for the toolkit's implementation.
Advice to new public health students
For students just beginning their public health journey, I would advise them to leave no stone unturned. A public health career can take someone many directions, and as a student, this array of possibilities can be daunting. Students should take advantage of the many options that this field presents and use it to their advantage to find alignment between their work and passions.
Advice to soon-to-be public health graduates
For a student getting ready to graduate with their public health degree, I would advise them to leverage the connections that they have made during their academic experience. Students should capitalize on the network they have already built by reaching out for opportunities, mentorship, and even general advice. SPHIS is a cornerstone in Louisville's public health community, and as a student, this offers a fantastic opportunity to find prospects, identify personal interests, and kick start their career.
Connect with Natalie on LinkedIn.