Alumnus Spotlight: Dr. Ray Yeager
Name: Ray Yeager, PhD, MPH
Degrees: Master of Public Health (2010); PhD in Public Health Sciences - Environmental and Occupational Health (2016)
Reflection on earning a degree from SPHIS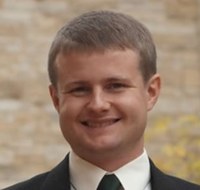 After completing his dissertation about residential greenness and cardiovascular disease risk, chaired by David Tollerud, he received his PhD in Environmental and Occupational Health from SPHIS in 2016.
Prior to SPHIS, Ray was an environmental health geographer at Tetra Tech. He was inspired to pursue his doctorate while he was doing geographic consulting on environmental pollution and cardiovascular disease projects at the UofL Diabetes and Obesity Center. He wanted to contribute to the work in a more substantial way.
When asked how his degree from SPHIS has aided him, he said, "SPHIS provided the foundation and connections in public health that I needed to fully apply myself to the field and move beyond just analysis."
Ray's Professional Experience
Ray is a research associate at the UofL School of Medicine and is a collaborator on the Green Heart Project, a student of the impact of urban greenness on health. The Green Heart Project will evaluate the concept that trees and shrubbery can improve the air quality and health of citizens in a heavily trafficked area of Louisville. Ray primarily performs geographic analysis, writes manuscripts/grants, and coordinates studies. He is excited that this research has the ability to directly inform important public health policy.
Advice to students
His advice to current and future public health students is to "find a specialty that you are good at and enjoy, and then run with it!"
Connect with Ray
Additional Readings on the Green Heart Project: