SPHIS Home » Alumni and Donors » Alumni News » Alumna Spotlight: Emily Sweet shares how Grand Canyon visitors benefit from public health education
Alumna Spotlight: Emily Sweet shares how Grand Canyon visitors benefit from public health education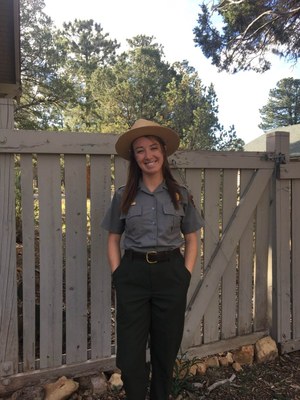 While a student at SPHIS (now alumna) Emily Sweet, MPH, was able to utilize her public health skills to create a unique practicum experience at Yellowstone National Park, which led to her current position as a Grand Canyon Park Ranger.
Aside from working briefly as a concessionaire in Glacier National Park, Emily had never worked inside of a national park, let alone as a park ranger. However, she learned quickly. As an Interpretive Park Ranger Intern, she helped staff the visitor center, deliver ranger talks, and promote various programs. She said, "Delivering ranger talks was one of the most rewarding parts of this position as I was able to incorporate a strong public health message. These talks focused on environmental education, outdoor safety, and conservation messages.  I worked with visitors to help them connect to resources of Yellowstone National Park – with a health-focused approach."
While at Yellowstone, she also studied and developed a great passion for the bison population. The bison are infected with a disease called Brucellosis, which poses a threat to nearby cattle populations. She explained that this provided a chance to "demonstrate many of the epidemiologic principles" developed through the MPH program.
Upon graduation, Emily began working full-time as a park ranger at the Grand Canyon. She said her practicum experience at Yellowstone as well as her degree from SPHIS helped prepare her for her current position as both gave her the tools to recognize health disparities and inequities across populations.
Emily said, "This position is similar work to my experiences in Yellowstone but in a completely different environment. Arizona encompasses a desert landscape where education on safety and hydration is an important part of my job. On a daily basis, I will have a presence at information centers or on trails to help educate visitors on safety and park resources. I will be required to deliver 1-2 ranger programs per day which include programs such as the 45-minute Fossil Walk or 20-minute Critter Chat."
As a May 2018 graduate, Emily offered the following advice to students who are just beginning their public health journey. She said, "The SPHIS has a multitude of resources available to help. The staff is incredibly supportive and will work with you in whatever way you need. Do not be afraid to ask for help. Someone will have the answer… And if they don't, you'll be provided with the resources to find it."
She also wanted to thank SPHIS for the countless opportunities she had to learn and grow. To her fellow graduates and those about to graduate, she wanted to remind you to breathe. "I've already used many of the principles learned in the program. This degree will be helpful no matter what career path you venture into. You made it this far – it will all work out in the future. Best of luck to everyone who ventures through this school."
Given Emily's commitment to population health and national parks, it's no surprise that she concluded by saying, "We need more Junior Rangers out there to help protect park resources (it's a program for all ages if you ever visit a national park)."
So if you ever find yourself headed to the Grand Canyon, feel free to connect with Emily on LinkedIn or follow her on Instagram.