Alumnus Spotlight: Dr. Lewatis McNeal
Name: Lewatis McNeal, PhD, MPH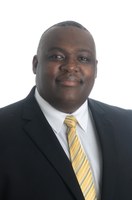 Degree: PhD in Public Health with a concentration in health promotion
Graduation Date: 2016
Reflection on earning a public health degree from SPHIS
Dr. McNeal said his interest in public health grew during his time as a MPH student. "I learned public health was a broader field than I initially realized and that peaked my interest to learn more."
He went on to earn a PhD from SPHIS, which helped him secure his current job as the Assistant Dean of Administration, Inclusive Excellence and Special Projects at Northern Kentucky University (NKU). 
Professional Experience
Before starting the PhD program, Dr. McNeal worked in community health at the University of Kentucky (UK) Center for Rural Health. His position focused on addressing community health issues for rural residents in Western Kentucky. In addition, he has also worked for the UK Cooperative Extension Service, Mississippi State University Extension Service, Western Kentucky University – Owensboro, and Owensboro Community and Technical College.
In his current role at NKU, Dr. McNeal said his days working as an academic administrator for the college are never the same. Some of his daily tasks include:
-- Overseeing all fiscal and personnel operations for the College of Education and Human Services
-- Assisting the College Dean with academic operations, support of faculty and academic departments
-- Serving as Acting Dean for the college in the absence of the Dean
-- Providing guidance and resources for faculty and staff around efforts to progress diversity and inclusive excellence and overall student success within the college
Advice to students
Dr. McNeal advises all public health students to "embrace the grind" if they wish to be successful in this field. He said, "It will not be an easy journey, nor should it be. Enjoy the process as much as you can, knowing that you will be prepared as a researcher, clinician or practitioner. As the state of public health changes, being in position to address those changes will be essential."
In addition to "embracing the grind," Dr. McNeal encourages soon-to-be public health graduates to "Network, Network, and Network." He said, "Academically you are prepared, but your network of people will be important in your success. Not only networking with other professionals in your area, but with members of the community in which you live or serve. In many cases, your networking, collaborations and partnerships with other colleagues and community members will have a direct impact on what you are able to accomplish as a public health practitioner/researcher."
Connect with Dr. Lewatis McNeal
If you would like to connect with him, feel free to reach out via any of the following channels: