Alumna Spotlight: Ellen Madden lands job at UofL Hospital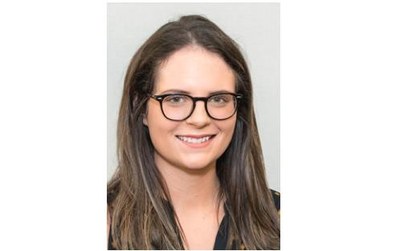 SPHIS alumna, Ellen Madden, received her MPH in spring 2018. Thanks to her experience and contacts at SPHIS, she was able to start a career in public health immediately after graduation.
After discovering SPHIS through a family friend who worked at UofL, Ellen decided it was the perfect opportunity to return home to Louisville shortly after graduating from the University of Cincinnati with a bachelor's degree in biological sciences. She became interested in public health because of her science background and interests in ecology and evolution. Even though epidemiology seemed like the natural fit, she said, "I had always wanted to work in healthcare, so I made the choice to select the population health management concentration. I thought it was a nice way to merge my science background with knowledge about the healthcare business and operations."
Ellen added, "For me, the operational and business sides of healthcare were completely unknown . . . I think that learning more about the unknown was what interested me and drew me to the population health management concentration. I am now working in a position that I never knew existed, and I think that exploring my true interests is really what got me here."
While at SPHIS, she worked in the lab for the Louisville Metro Department of Public Health and Wellness (LMPHW). She tested water samples for E.coli and blood samples for sexually transmitted diseases. After finishing her summer at the LMPHW, she began working as an administrative assistant at the University of Louisville Division of Infectious Diseases.
After graduation, thanks to help from her academic advisor and her practicum experience working in the Department of Quality and Patient Safety at UofL Hospital, Ellen secured a full-time position at UofL Hospital as a Project Manager. In this position, she leads and coordinates committees involving patient throughput, patient experience, nursing satisfaction, and general hospital operations and staffing. She develops and updates process improvement monitoring programs and assists the CEO and CNO with special projects (e.g. revenue cycle, organizational structure, and emergency preparedness management). She also constructs regular staffing and operational reports in collaboration with human resources and the quality and patient safety departments. Currently, her projects involve nursing satisfaction, reduction of average length of stay, and workplace safety.
When asked to offer advice for students who are new to public health, she recommended, "Having an open mind during the first semester of the program and really try to focus on where your interests lie within the public health field. At the end of the day you will be the most driven and successful if your work truly interests you."
She concluded by encouraging fellow and future graduating students to develop a professional network. She said, "Take advantage of the connections you make during your practicum experience. It is important to put your best foot forward while you are working in these outside organizations so that employers may take notice of what you have to offer the organization. Professors are also a wonderful source of information and can help link you to outside organizations, research programs or volunteer opportunities. Creating a large network is important in sustaining your career and can help you to explore career paths that may not have been obvious to you previously."
If you want more information or to connect with Ellen, feel free to reach out to her on LinkedIn.