Rolando M. Cordoves
Learn more about our resident's background, what moves them, and why they chose this wonderful medical specialty: Neurology!
Tell us about yourself!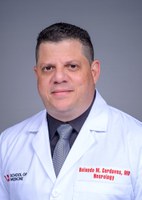 I was born and grew up in Cuba, a small island in the Caribbean. As a young man, I spent my time swimming in the warm Caribbean waters and playing baseball. Nowadays, I no longer play baseball, but I still enjoy watching it. Most of my current time is now dedicated to work and research, but I love to cook, and I am very creative in the kitchen. One of the things I enjoy most in life is spending time with my wife and children.
Why did you choose Neurology?
My passion for medicine comes from my father, who is a Neurocritical care physician. As a young boy, he used to take me on hospital rounds with him, and I was able to see firsthand the importance of excellent medical care. I became interested in Neurology because it is fascinating, intriguing, and challenging. I trained and practiced as a doctor in my home country, South America and South Africa while dreaming of coming to America.