Mohammad Ravi Ghani
Learn more about our resident's backgrounds, what moves them, and why they chose this wonderful medical specialty: Neurology!
Tell us about yourself!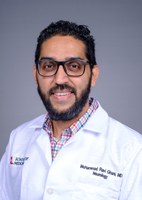 I come from Suriname, a tropical country in South America, rich with different cultures and languages, food, many outdoor activities, places to explore, and most importantly, a close-knit community due to its small population size. After completing medical school, named after the freedom fighter Anton de Kom, I decided to continue my medical education here in the US. I love to play soccer and racquetball and travel to different places.
Why did you choose Neurology?
My interest in Neurology stems from early in medical school due to some interesting patient encounters. The opportunity of having great mentors further directed me toward this continuously evolving field of science. With newer treatment options becoming more readily available, like interventional neurology, I will hopefully achieve what I strive for to positively change patients' lives, giving them a more hopeful perspective.