Benjamin Romanowski
Learn more about our resident's background, what moves them, and why they chose this wonderful medical specialty: Neurology!
Tell us about yourself!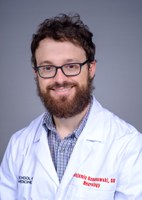 I'm a native Texan who recently moved to Louisville. My wife and I had our first baby boy at the end of July 2021. I am interested in mixed martial arts, fantasy football, homesteading, gardening, and personal finance. My other hobbies include seeing movies at the theatre, playing video games, listening/attending stand up comedy, and exercise/fitness.
Why did you choose Neurology?
I have a forward thinking mindset towards medicine and a general desire to innovate. Neurology offers tremendous opportunity for improvement in the standard of care for many diseases, and I look forward to contributing to the field in any way I can. My interests before medical school were TBI and Alzheimer's and are still at the front of my mind. Plus, Neurology is awesome.