Master of Science in Social Work
---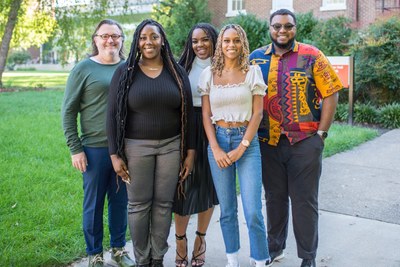 The Kent School of Social Work and Family Science at the University of Louisville has prepared professional social workers since 1936. Centered in Kentucky's largest metropolitan city, Louisville, KY, we prepare generations of social workers nationally and globally for careers in advanced social work practice through lenses of anti-oppression and anti-racism while promoting social justice.
The mission of the Master of Science in Social Work (MSSW) Program is to provide an advanced generalist social work education that prepares students for ethical, evidence-informed, advanced social work practice with diverse, vulnerable and marginalized individuals, families, groups, organizations, and communities. Our program contributes to the mission of the University as a great place to learn, by providing engaged service and outreach opportunities that improve the quality of life for local and global communities.
To promote student success, the MSSW Program provides diverse program options, including Advanced Standing (30 credit hour) and Regular (60 credit hour), on-campus and 100% online courses, full-time and part-time paths, dual degree options, and you can customize your MSSW degree to concentrate in social work career options in Alcohol and Drug Counseling, Gerontology Social Work, Mental Health Social Work, Military Social Work, Psychosocial Oncology/Medical Social Work, and School Social Work.
Contact us at msswkent@louisville.edu.
Download MSSW Program Brochure [PDF].
Prospective Student Information Sessions
Want to learn more about attaining a Master of Science in Social Work degree?
The Kent school of social work offers virtual informational Prospective Student Sessions (PSS) for applicants interested in earning an MSSW. General Informational sessions are offered for all applicants who earned or will earn a bachelor's degree, no matter the major. HBCU sessions are offered for applicants who have graduated or will graduate from a Historically Black College. Advanced standing sessions are for applicants who have earned or will earn a Bachelor of Social Work Degree (BSW) or equivalent.
---
MSSW Online Program
Through our online program, students worldwide have opportunities to learn from and collaborate with our renowned faculty of social work researchers, educators, practitioners, policy and legislative leaders, and community activists. Learn more about our faculty at our faculty bio page.
The MSSW degree earned online at UofL has the same coursework as a degree earned on campus. Your MSSW degree from the University of Louisville meets master's level education requirements for social work licensure. Learn more about the power of online education.
---
HBCU Cardinal Express to Success

The HBCU Cardinal Express to Success program is designed to increase the representation of advanced social work practitioners of color prepared to provide practice with diverse, vulnerable and marginalized individuals, families, groups, organizations, and communities. This graduate MSSW program will focus on recruiting students who are currently pursuing or have completed a Bachelor of Social Work degree at a Historically Black College and University (HBCU).
The Kent School of Social Work has an accelerated admissions process and scholarship opportunities for HBCU students and recent graduates. Through our programmatic offerings of mentoring and networking opportunities, professional development, career placement support and scholarships, the program will strive to provide the support the students need to be successful during their social work education and in their professional social work careers. The program is open to all eligible students regardless of race, color, national origin, sex, disability, or age. Please contact hbcucard@louisville.edu to learn more about the program.
---
Cardinal Pride
 UofL is proudly a Military Friendly school. You can take advantage of the tuition discount, application fee waiver, and student support services
 Achieve 5/5 stars rating UofL as being the most LGBTQ-friendly university in the country.
 Kent MSSW Program's HBCU Cardinal Express to Success program provides HBCU students and graduates with an expedited path toward admissions to the MSSW program and student support.
Accreditation: The University of Louisville is accredited by the Southern Association of Colleges and Schools Commission on Colleges (SACSCOC). The MSSW Program is accredited by the Council of Social Work Education (CSWE). 
---
"My favorite thing about Kent is the staff that I have met that has displayed a  commitment to seeing me achieve both academically and personally." ~Javoughn Brown-Lewis, '22, MSSW/MSCFT graduate