Matthew Biberman launches Italian translation of his memoir
Saturday May 7 English Professor Matthew Biberman launched the Italian edition of his memoir La Leggenda di Big Sid e la Vincati during the 2022 ASI Motoshow at the Varano dè Melegari race circuit outside Parma, Italy. Matthew shared the stage with 15 time Moto GP World Champion Giacomo Agostini (pictured in his Yamaha race leathers).  Long considered a national treasure in motorcycle mad Italy, "Ago" was signing his life in pictures book while Matthew got to listen to his translator Marina Cianferoni (pictured in the red jacket) read from his Vincati memoir, most of which is set right here in Louisville.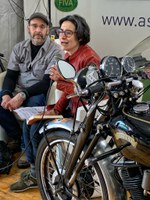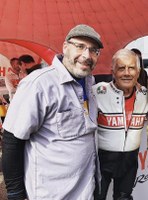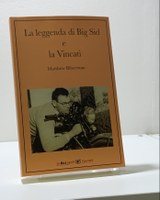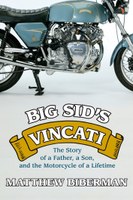 Big Sid's Vincati (Penguin hardback, 2009; Plume paperback, 2010; Plume reprint, 2010) was reviewed in The New York Times (by Stanley Fish) and featured in the Louisville Courier Journal, The Kansas City Star, The Sacramento Bee, Motorcyclist, WKU-PBS's Mainstreet, Jay Leno's Garage and Discovery Channel's Cafe Race. His scholarly studies are frequently cited and have been reviewed in Medieval and Renaissance Drama, The Modern Language Review, The Review of English Studies, Renaissance Quarterly, Year's Work in English Studies. Matthew Biberman is also the author of the scholarly studies Masculinity, Anti-Semitism and Early Modern English Literature (Ashgate, 2004, Routledge paperback 2016) and Shakespeare, Adaptation, Psychoanalysis: Better Than New (Routledge, 2017).
Click here to watch an earlier interview with Matthew about Big Sid's Vincati on our department's YouTube channel.