SPHIS Home » Alumni and Donors » Alumni News » SPHIS alumni stay connected to school through the Gray Street Farmers Market
SPHIS alumni stay connected to school through the Gray Street Farmers Market
Left to Right (Angela Champion-Sprowl, Courtney Ellis, Barbara Parker, Sara Frazier)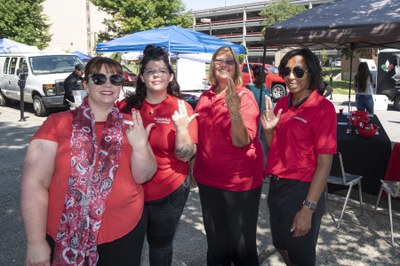 The 11th season of the Gray Street Farmers Market (GSFM) came to a close just a few days ago on Halloween. SPHIS alumni and volunteers help ensure the market is a success year-after-year. SPHIS alumna, Sara Frazier, has been the GSFM Market Manager for the past three years and is one of those individuals.
After transferring to UofL from Jefferson Community and Technical College, Sara enrolled in the bachelor's program in public health and became a work-study student at SPHIS. This is how she learned about the GSFM. Sara volunteered at the market for about two years and shortly after she graduated from in 2016, Sara was offered the position as the GSFM Market Manager.
As market manager, Sara juggles many responsibilities and moving parts to ensure the weekly success of the GSFM. A typical week consists of reaching out to vendors, volunteers, and special guests; writing a weekly newsletter; composing the volunteer schedule; ensuring all supplies are readily available for market day; and placing yard signs around the community.
When asked about her experience, Sara explained that she sees the GSFM as a team effort and described how GSFM volunteers are essential to the services we provide each week. "The Gray Street Farmers Market is only as strong as the parts that hold it together, and our team of volunteers add durability and strength to a market that is well-loved."
She also emphasized that the GSFM would not be what it is today without its loyal customers and vendors: "Everyone has their own individual story and lends their own personal flare to the market. We wouldn't be who we are here on Gray Street without the diversity we circulate and embrace. Without their continued support, we would not be able to continue to grow this market."
Another SPHIS alumna who is staying connected to SPHIS by assisting at the GSFM is Courtney Ellis. She graduated from SPHIS in 2018 with her BS in Public Health. After graduating, Courtney said was looking for an opportunity to get involved with a community-based program. Courtney found her "passion project" by volunteering with the GSFM. She volunteered with Sara for a couple of months getting ready for the 2019 season and then was hired as the GSFM Program Assistant.
Courtney explained why the GSFM was a good fit for her: "I love public health, especially food system studies, customer service, and working in the community. The GSFM hits all those points. I get to work with a great team of people who really care about the market and the community. The farmers market has been a great opportunity for me to provide customer service, be out in the community, and have fun while working."
In addition to Sara and Courtney, two other SPHIS alumni volunteer and provide oversight for GSFM operations as members of the GSFM governance committee. David Johnson, PhD, MPH, CPH, is a two-time graduate of SPHIS and is currently an assistant professor in the Department of Health Management and Systems Sciences. SPHIS alumna, Lindsey Bramlett, MPH, is a Health Education Specialist I at Family Health Centers. She supports the GSFM and community by bringing health education materials from Family Health Centers to the market several times throughout the season.
Even though the 2019 GSFM season has ended, work has already begun on the 2020 season. During the off-season, the programs offered at the GSFM and overall operations are reviewed and streamlined, permits are renewed, and supplies are replenished or replaced. We will also search for new vendors and food trucks to offer a variety of local products at the market. Sara will tackle these tasks along with any and everything that is necessary to ensure the GSFM will run smoothly for the upcoming 2020 season.
For fun, we asked Sara and Courtney what they will miss the most during the off-season. Sara couldn't pick just one item and said she enjoys all of the different items we offer. "I love food, and I do have a favorite item with each vendor. Having so many options allows me to choose a different favorite to indulge in each week." However, Courtney said if she could only pick one item from GSFM, she would pick the blueberries because "they're the best!"
In future seasons, Sara said she hopes to see continued growth of the market and its programs that benefit the community. She said, "It is heartwarming to know we are assisting people by making healthy food more affordable through programs such as the SNAP Dollar for Dollar."
If you are interested in learning more about the GSFM or getting involved, please contact Sara Frazier at sara.frazier@louisville.edu.
See you next year for #ThursdaysOnGray