SPHIS Home » Alumni and Donors » Alumni News » SPHIS alumna, Tiffany Robinson, accepts position at Humana Foundation
SPHIS alumna, Tiffany Robinson, accepts position at Humana Foundation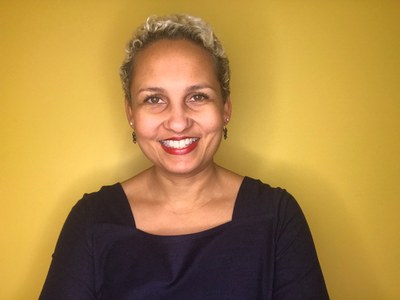 SPHIS Alumna, Tiffany Robinson, MPH, PMP, CPH, has joined the Humana Foundation as a Senior Program Officer where she will be responsible for building and maintaining key relationships with organizations, foundations, researchers, and community members in cities where the Humana Foundation makes strategic investments.
When asked about her new role, Tiffany stated, "I'm really looking forward to learning and contributing to the Humana Foundation and their work to positively impact the health and wellbeing for people in communities throughout the US."
Most recently, Tiffany worked at SPHIS as Program Manager for the UofL Center for Health Organization Transformation, a National Science Foundation Industry-University Cooperative Research Center Program. She engaged organizations, managed research partnerships, and helped bring over $500,000 in research funding to the SPHIS. Prior to that, Tiffany served as an adjunct professor, fundraiser, alumni coordinator, and as a member of research teams for the National Children's Study and the Louisville Putting Prevention to Work project.
In addition to her work at UofL, Tiffany co-founded a public health consulting company whose work included assisting various healthcare organizations and leading the research process that led to Louisville's Bounce Coalition. A five-time published author, Tiffany's children's books place emphasis on representing positive social norms through characters of African descent. Her favorite part of being an author is working with aspiring authors and students.
Tiffany is a Lieutenant Colonel in the USAF Reserve. She earned her BS from the US Air Force Academy and a Master of Public Health degree from the School of Public Health and Information Sciences. She and her family have lived in Louisville since 2001.
Please join us in thanking Tiffany for her nine years of exceptional service to SPHIS and wishing her well in her new position.
You can connect with Tiffany on LinkedIn.