Experimental Psychology Research & Professional Development Series
At our weekly Research & Professional Development meeting, graduate students in Experimental Psychology get multiple opportunities to present their research in a relaxed environment. The weekly meetings are also used as a place to discuss professional development topics that are of interest to the students (e.g., How to Give Effective Presentations, Academic Writing, Tips on Getting Non-Academic Jobs, etc.).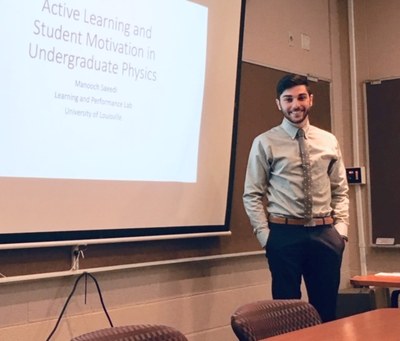 Second-year student, Manooch Saeedi, preparing for his talk .

2018-19
Organizer: Dr. Nick Noles
Meetings held in Life Sciences room 133, Wednesdays 1:00-2:00PM
| | |
| --- | --- |
| 9/5/2018 | Naive Economics - Dr. Nick Noles |
| 9/12/2018 | Setting Up and Running a Research Lab - Dr. Nick Noles |
| 9/19/2018 | Working Memory and Problem Solving - Veronica Cucchiarini |
| 10/3/2018 | Deliberate Representations Practice Does NOT Improve Physics Exam Scores - Campbell R. Bego |
| 10/17/2018 | What Does Mickey Know About Food? Children's Trust in Favorite Characters and Experts - Allison Williams |
| 10/24/2018 | Active Learning and Student Motivation in Undergraduate Physics - Manooch Saeedi |
| 10/31/2018 | Careers Post-Graduate School - Michelle Rodems (SIGS) |
| 11/7/2018 | Developing a System for Computer Based Instruction of Neuroscience - Dr. John Pani |
| 11/14/2018 | TBA |
| 11/28/2018 | Acoustics Characteristics of Infant Directed Speech in Latin American Immigrants - Sabrina D'Souza |
2017-18
Organizer: Dr. Brendan Depue
Meetings held in Life Sciences room 133, Wednesdays 1:00-2:00PM
8/30/2017

Grant/Award Funding - Dr. 

Brendan Depue & Manooch Saeedi

9/6/2017
Grant/Award Funding - Dr. 

Brendan Depue

9/27/2017
Neuroscience Methods - Dr. Woody Petry
10/3/2017
Poster Practice (Cog Dev Soc) - Various students
10/25/2017
Neural Mechanisms of Treatment-Related Memory Impairment in Breast Cancer Patients - Will Corley
11/1/2017
Examining the Relationship Between Children's Memory for Errors and Learning - Abbey Loehr (Vanderbilt)
11/8/17
Neuroimaging: Theoretical Aspects - Dr. Brendan Depue
11/29/2017
Cognitive Profile of Young Children with Williams Syndrome - Marinie Joseph
1/24/2018
Effective Presentations I - Brenden Depue
1/31/2018
Jobs in Industry - Michelle Rodems (SIGS)
2/7/2018
Effective Presentations II - Brenden Depue
2/21/2018
How to Get Your Money's Worth at a Conference - Lindsay Knight & Teodora Stoica
3/7/2018
Exploratory Learning in Classrooms: Effects on Motivation - Manooch Saeedi
3/28/2018
The Effects of Parental Interaction on Infant Learning: When Less is More - Nonah Olesen
4/4/18
Lexical and Grammatical Abilities of 3- and 4-year-old Children with Down Syndrome or Williams Syndrome - Caroline de Greiner Magalhaes
4/18/18
Eye Movements and Eyewitness Recall - Anna Kelley
2016-17
Organizer: Dr. Christian Stilp
Meetings held in Life Sciences room 133, Mondays 11:30-12:30
8/29/2016

Academic Writing: Getting It Done

9/12/2016

The Development of Children's Intellectual Humility - Judith Danovitch

10/10/2016

 

Temporal Organization in Turn-Taking Between Mothers and Hearing-Impaired Infants with Cochlear Implants - Maria Kondaurova

10/17/2016 

Peer Review Roundtable 

10/24/2016 

Peer Review Roundtable II 

10/31/2016 

When Higher Working Memory Capacity Hinders Problem-Solving Insight - Marci DeCaro

11/7/2016 

Does the Internet Cloud Reality? Children's Reasoning about the Reality Status of Information from the Internet- Michelle Jackson

11/14/2016

Children's Theory of Mind and Understanding of Ownership Concepts - Catherine McDermott

11/21/2016 

The Influence of Talker Variability on Spectral Contrast Effects in Vowel Perception - Lily Assgari

11/28/2016 

The Role of Binaural Summation in the Amount of Perceived Reverberation - Greg Ellis

12/5/2016

Self-Recognition, Pretend Play, and Personal Pronoun Use by Toddlers with Williams Syndrome - Nonah Olesen

1/9/2017

Is Handedness an Important Individual Difference Factor in Personality and Social Psychology? - Keith Lyle

1/30/2017

How to Give Effective Presentations 

2/6/2017 

Context and Memory - Marcus Leppanen

2/13/2017

Synergistic Effects of Voting and Enforcement on Internalized Motivation to Cooperate in a Resource Dilemma - Daniel DeCaro

2/20/2017

Easier Tests are Easier: Computer-Assisted Learning and Neuroanatomy - Mary Beckerson

3/6/2017

Neural Correlates of Individuation and Categorization of Other-Species Faces in Infancy - Kate Dixon

3/20/2017

What Influences Accuracy of Open-Ended Interview Questions? - Robin Hopkins

3/27/2017

Dissertations (roundtable facilitated by Christian Stilp)

4/3/2017 

SRCD Practice Session - students and faculty presenting their posters/talks before the conference

4/10/2017 

Identifying Bottlenecks in Engineering Mathematics: Cognition, Motivation and Instruction - Campbell Rightmyer

4/17/2017   

Tips on Getting Non-Academic Jobs - Kate Dixon & Michelle Rodems