About the Program
The Doctor of Philosophy in Nursing program is designed to prepare nurse scientists who will assume a variety of roles in education, research, leadership and health policy.  The holistic review process is used when considering applications for admission to the PhD Program in Nursing.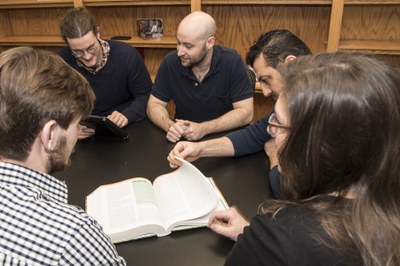 The goal of the program is to prepare nurse scientists to:
generate knowledge, test interventions and evaluate outcomes to reduce risks of illness/disability and promote quality of life.
collaborate with other disciplines to improve the delivery of health care.
assume research, leadership, executive, public policy and/or teaching roles.
affect health policy through the application of scientific knowledge.
Tracks
Three progression tracks are offered in the program:
BSN to PhD: BSN to PhD students complete the first year of coursework at the master's level and then continue on to doctoral level work.
MSN to PhD: The MSN to PhD students enter directly into doctoral coursework.
DNP to PhD: The DNP to PhD students enter directly into doctoral coursework.
Plan of Study
The PhD program is offered in a hybrid format with 4-6 on-campus classes per semester. Some courses may be offered in person or online. Most courses are offered in a traditional semester long format; however, selected courses may be offered in an intensive format.
Full or part-time programs of study are available. Each student's plan of study includes required core courses and cognate courses based on individual student interests. In addition to coursework, students receive intensive mentoring by experienced faculty researchers. Emphasis is placed on developing relationships between established and developing scholars to facilitate student success in research, grant writing, and dissemination activities.
Following completion of coursework, students take a qualifying examination. A dissertation is required once coursework is completed and the qualifying exam is successfully taken. The dissertation may be completed in a traditional or manuscript option format.