About the Program
The Doctor of Philosophy in Nursing program is designed to prepare nurse scientists who will assume a variety of roles in education, research, leadership and health policy.  The holistic review process is used when considering applications for admission to the PhD Program in Nursing.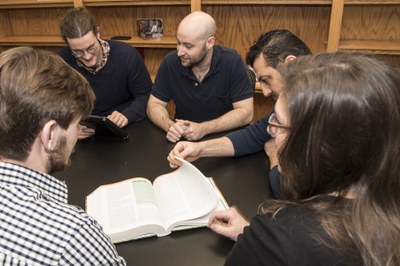 The goal of the program is to prepare nurse scientists to:
generate knowledge, test interventions and evaluate outcomes to reduce risks of illness/disability and promote quality of life.
collaborate with other disciplines to improve the delivery of health care.
assume research, leadership, executive, public policy and/or teaching roles.
affect health policy through the application of scientific knowledge.
Tracks
Three progression tracks are offered in the program:
BSN to PhD: BSN to PhD students complete the first year of coursework at the master's level and then continue on to doctoral level work.
MSN to PhD: The MSN to PhD students enter directly into doctoral coursework.
DNP to PhD: The DNP to PhD students enter directly into doctoral coursework.
Plan of Study
The PhD program is offered on-site. While the majority of courses are face-to-face, some cognate courses may be offered on line.  Most courses are offered in a traditional semester long format; however, selected nursing core courses may be offered in an intensive format.
Full or part-time programs of study are available. Each student's plan of study includes required core courses and elective courses based on individual student interests. In addition to course work, students receive intensive mentoring by experienced faculty researchers. Emphasis is placed on developing relationships between established and developing scholars to facilitate student success in research, grant writing and dissemination activities.
Following completion of course work, students take a qualifying examination. A dissertation is required once coursework is completed and the qualifying exam is successfully taken. The dissertation may be completed in a traditional or manuscript option format.
APPLICATION DEADLINES: ROLLING ADMISSION

APPLICATION:
The University of Louisville School of Nursing participates in Nursing's Centralized Application Service (NursingCAS), which provides you with an online application. NursingCAS collects and processes your application documents and verifies your transcripts. We receive your application information from NursingCAS and use it to make our admission decisions.
You do not need to submit any of your supporting documents to the University of Louisville.  Only the University of Louisville Graduate Admissions Application is required with a reduced fee of $40. Detailed instructions will be included in your admission decision correspondence.
All required items must be uploaded and transcripts verified by NursingCAS on or before the published deadline. The transcript verification process can take several weeks after receipt of transcript, so please see that all materials are received by NursingCAS well in advance of the published deadline.  
NursingCAS provides detailed instructions on their website.  Review information under the "Prepare to Apply" tab. The system provides you with updates on your progression as you work through the application and allows you to check your status online to track the receipt of your application, transcripts and references
Questions on how to upload required documents or questions regarding receipt of transcripts should be directed to NursingCAS and not to the School of Nursing.
Questions regarding admission requirements should be directed to nursserv@louisville.edu

ADMISSION REQUIREMENTS:
A  holistic review process is used when considering applications for admission to the PhD Program in Nursing. The holistic review considers multiple criteria for admission, including: the applicant's professional career goals, academic capabilities, GPA, research interests, RN license, area of expertise, community engagement, and potential for scholarly career in nursing.
Official transcripts from all undergraduate and graduate college course work with a recommended undergraduate cumulative grade point average of at least a 3.0 on a 4.0 scale.  Bachelor's degree must be from a regionally accredited institution and a NLN or CCNE accredited nursing program. Applicants who have attended a college or university outside the United States are required to submit an evaluation of their transcript through World Education Services (WES) or Educational Credential Evaluators (ECE).  
Students for whom English is not their primary language must show English language proficiency.
Three Professional Letters of Recommendation from individuals who can speak of academic and/or professional capabilities and potential for a scholarly career.  Recommendations should be chosen from among: former faculty members, current or immediate past employer, or other nursing/health professionals.  At least two references should be from nurses.  Recommendations forms/letters must be completed within the last year.
A current curriculum vitae or resume.  Include nursing license number on resume. International students need to be licensed as registered nurses in their country of origin, if licensure is available.  If direct patient care activities are provided, a Kentucky RN licensure prior to December in their first year of study must be obtained.
A written statement of career goals, area(s) of expertise, research interest, and reasons for pursuing doctoral studies.  Maximum three pages; double spaced; 12 point font.
Personal interview with School of Nursing faculty will be required.

 

Completed

 

Graduate Admission Application

 

including a reduced application fee. No additional documents required with UofL application. Please send all admission documents to Nursing CAS.
A Certified Background Check - Please complete the background check through this link.  The school code is IP66bg.
*Please note that all nursing students are required to have background checks. As a result, the Kentucky Board of Nursing requires nursing students to report all misdemeanors and felonies to them. Carefully read the guidelines on the Kentucky Board of Nursing website.
PhD Tuition & Program Costs
School of Nursing Costs
PhD


Background Check

$58; at point of application to SON

Books

Cost varies

Cardinal Card (Student ID)

$10 Replacement Costs

Immunizations

Visit Campus Health website for individual costs.

Major Medical Health Insurance

Visit Campus Health website for individual costs.  May waive with proof of insurance

Parking Permit

Required for UofL campus parking. Costs vary.

Student Health Fee

$52.50 per semester, Campus Health Services
Financial Aid
Full-time students can apply for fellowships and assistantships to support their doctoral studies. Fellowships provide tuition, a stipend and health insurance for one to two years without a work requirement. Assistantships provide tuition, a stipend and health insurance in exchange for a 20 hour per week work requirement as a graduate research or teaching assistant. Fellowships and assistantships are awarded on a competitive basis.
Applicants must consider a number of factors when considering how to pay for graduate school. The following resources will help in the process.
School of Nursing Office of Student Services
Phone
502.852.8298 or
1.877.81NURSE (816-8773)
Fax
502.852.8783
Address

Health Science Campus
555 S. Floyd Street
Third Floor, School of Nursing
Louisville, KY 40292

Email
UofL Office of Admissions
---
Frequently Asked Questions
Q: What is the focus of the PhD program?
A: The program is designed to prepare nurse scientists who may assume a variety of roles in education, research, leadership and health policy.
Q: How long does it take to complete the program?
A: BSN to PhD full-time students complete coursework in three calendar years and then focus on completion of their dissertation. MSN to PhD full-time students complete coursework in three calendar years and then focus on completion of their dissertation. Students may attend on a part-time basis and time to completion varies by the number of credits completed each semester.
Q: Can you be a part-time student?
A: Yes. Please review residency information below.
Q: Is there a requirement for full-time residency?
A: To assure that students have the opportunity to utilize the educational facilities fully and to participate in the intellectual life and research atmosphere of the University, at least two years of study must be spent at the University of Louisville and at least one must be spent in full-time residency. To be considered in full-time residency for one year, a student must be registered for 18 hours in a 12 month period.
Q: Can I transfer in hours?
A: Yes. The maximum number of semester hours transferable, upon request, is six. Up to six additional hours may be requested and considered for special approval. Credits which have been applied toward an earned degree may not be applied toward the doctoral nursing degree.
Q: Are there any courses required prior to starting the program?
A: Applicants accepted into the MSN-PhD program are strongly advised to have completed a three-credit master's level statistics course (applied descriptive and inferential statistics) with a grade of B (3.0) or higher within five years before the date of enrollment. Applicants who do not meet this requirement will be advised of available statistics courses prior to beginning fall PhD coursework in statistics. In order to do a self-assessment of knowledge in statistics, the following represents anticipated basic competencies from previous statistics coursework:
Design of research
Frequency distributions
Central tendency and variability
Probability theory

Normal distributions

Correlation
Simple linear regression
Statistical inference
Decision, error, and power
T-tests
One and two-way ANOVAs
Nonparametric tests