Visitor Information
The School of Nursing is located at 555. S. Floyd Street on the campus of the University of Louisville Health Sciences Center, which is part of the Louisville Medical Center complex. When visiting the School of Nursing, please enter through the doorway located across from the Abell Administration Center. Please reference the map and links below to view updated information related events, parking, and accessibility options:
If you have questions prior to your visit, or upon arriving, please call 502-852-5825.
We look forward to your visit!
---
Delivery Address
School of Nursing
Health Sciences Campus, K-Wing
555 South Floyd Street
Suite 3019
Louisville, Kentucky 40202
Mailing Address
School of Nursing
University of Louisville
Louisville, KY 40292
---
Metered Parking
Limited Parking Authority (PARC) meters, which accept coins and credit cards, are located on both Floyd Street and East Chestnut Street for short-term parking. Please ensure that you have adequate time on the meter to avoid receiving a ticket. Use of parking meters is not recommended for long visits to the School of Nursing. View the city's current meter policies and rates.
Garage Parking
Visitor pay parking is located inside the UofL Health Care Outpatient Center parking structure located at 414 E Chestnut St, Louisville, KY 40202.
Disability Parking
Limited parking is available adjacent to the School of Nursing on Abraham Flexner Way for guests with disabilities. Please be sure to have a decal on display, as you can be fined if one is not present.
If you are in need of wheel chair assistance, or other special accommodations, please call 502-852-5825 prior to your visit.
Visitor Drop-Off
The School of Nursing does not have a designated area for visitor drop-offs. If visitor drop-off is desired, open parking spaces near the Starbucks on Floyd Street (across from Norton Children's Hospital) or in front of the Abell Administration Center on Chestnut Street provide close proximity options.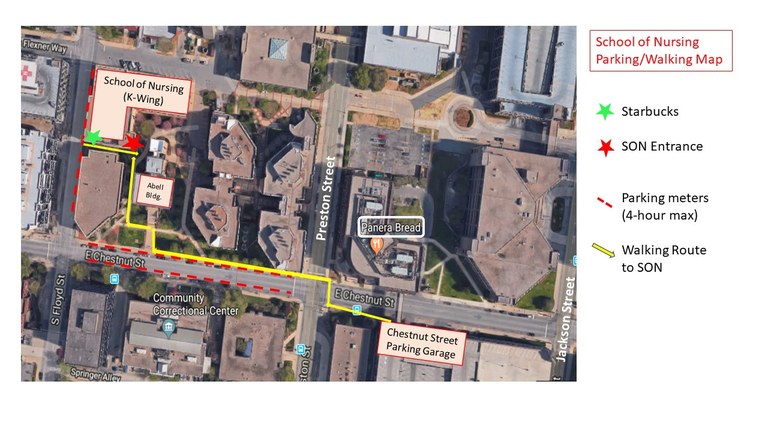 From the North
Take I-65 South to Exit 136C, Jefferson Street Downtown.
Stay in the left lane of the ramp for Brook Street.
At the end of the ramp, follow Brook St. one block to East Market and turn right.
Go one block on Market to South Floyd Street and turn right again.
Continue four blocks south on South Floyd Street to reach the middle of the HSC campus.
From the East or West
Take I-71 or I-64 to I-65 South.
Follow the directions above.
From the South
Take I-65 North to Exit 136A, Broadway/Chestnut Street. This ramp exits onto South Brook Street.
Continue on South Brook Street for two blocks.
Turn right on East Chestnut Street and left onto Floyd.
The School of Nursing is on the right.