International Learning Opportunities for Nursing Majors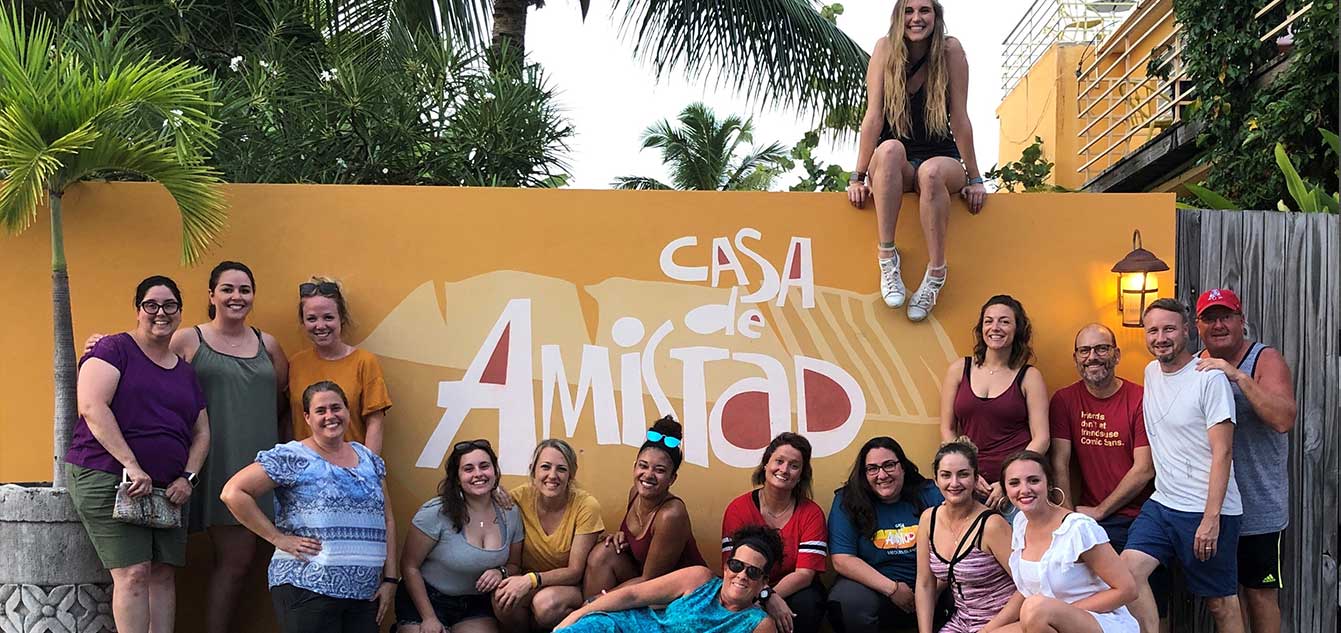 ---
Service with a Purpose
The School of Nursing remains committed to being a leader in providing nursing students international and domestic opportunities to enhance their understanding of the impact of social determinants on the health of all people. Typically, multiple International Service Learning Program (ISLP) trips held throughout the year. Note that the School of Nursing faculty currently offers nursing-specific programming in Belize, Croatia, and Ghana. Nursing students are also welcome to participate in any of the other trips offered through the University but would be registering for a course outside of the School of Nursing (i.e. Communication, Justice Administration, or Psychology). Please check with the ISLP website for more specifics. You can also email Dr. Paul Clark, Assistant Professor in the School of Nursing for additional questions.
Sponsored Programs
Please check back often for the most current information. Not all opportunities/applications are available throughout the year.
Belize
Spring Break
Applications accepted through louisville.edu/islp.  Please check there first for info.
Ghana
Croatia
April/May
Applications are done through louisville.edu/islp.  Please check there first for info.
Philippines
Philippines is also an ISLP trip but nursing does not have a program there. 
You are welcome to apply through another discipline on the same link listed above.
Looking forward to seeing as many students as possible participate in these life-changing experiences!!
Dr. Paul Clark
Assistant Professor
UofL School of Nursing
paul.clark.1@louisville.edu
---
Frequently Asked Questions (FAQs)


Can I participate if I am a graduate student (PhD, DNP, MEPN), or in lower division?
YES!!  There are several ways to do this.  You can register as an independent study, take NURS 500 as an elective, or take NURS 492 Global Public Health to fulfill an undergraduate program requirement. You may also register with another department that is participating in the particular program/trip you are interested in (i.e. communications, Pan African studies, etc.).
What are the dates and costs for the program?
Program dates change each year so it is best to check www.louisville.edu/islp for the most current information.
What is included with the program fee?
All travel, meals, excursions, and activities are included.  NOTE:  The program fee will show up on your bursar account.  You can use residual from loans, scholarships, grants to pay the balance as long as those funds go on your account directly.  The tuition portion (3 cr hr) shows up on account, but as long as you are FULL-TIME, this will increase your full-time tuition fee.  If you are PART-TIME, you will see an additional 3 credits added to your account.
What is not included with your program fee?
Miscellaneous items such as required shots (variable with insurance plans), passport (approx. $90), spending money, etc.
How/when can I apply?
Generally, applications are available on the ISLP website referenced above in early September.  Decisions are usually made by mid to late October.
Ready to Get Started?