White Coat Ceremony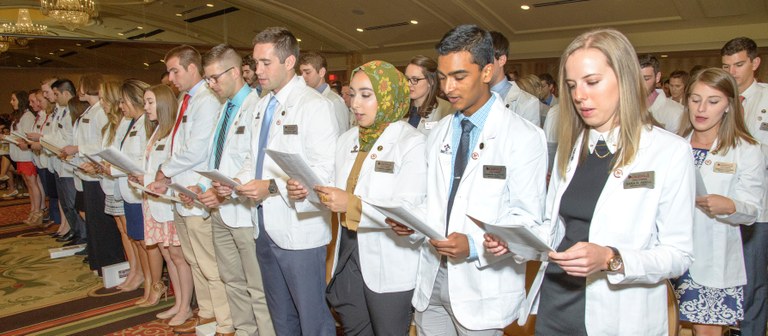 In the presence of family members, friends, and future colleagues, incoming medical students are are welcomed into the University of Louisville School of Medicine community by leaders in the medical community and ceremonially "cloaked" with their white coats by one of five specially selected School of Medicine faculty members.  Then, dressed in their white coats, the incoming class will stand to recite the Declaration of Geneva.
By establishing this meaningful ritual at the beginning of medical school, our hope is that students will become aware of their responsibilities from the first day of training.  The White Coat Ceremony is intended to impress upon them the primacy of the doctor-patient relationship.  It encourages the students to enter into a psychological contract in which they accept the obligations inherent in the practice of medicine.  The ceremony is designed to clarify for students that a physician's responsibility is to take care of patients, care for the patients, and practice humanism in medicine.
Class of 2026 White Coat Ceremony
Date: Sunday July 31st, 2022
Time: 3:00 pm
Location: Downtown Louisville Marriott, 280 W Jefferson St, Louisville, KY 40202
If you have specific questions about the White Coat Ceremony, please contact Cynthia Morse  in the Office of Medical Student Affairs.
Class of 2025: Click here for a recording of the ceremony

Class of 2024: Click here for a recording of the ceremony

 Learn more about the history of the White Coat Ceremony by clicking the link below.