Pickett College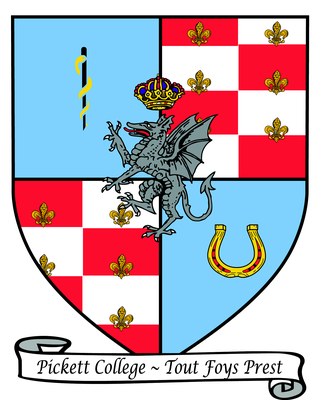 Alice Newcomb Pickett, M.D. (1878-1971) was the first woman faculty member at the University of Louisville, and the most beloved physician of the era by patients, students, and peers.  She was a pioneer in obstetrics who served as Chief of the UofL obstetrical service for over 25 years.  She guided her field through times of enormous changes, and she brought great care improvement for women and their newborns.
Alice Pickett was born December 22, 1878 into a Kentucky farming family near Shelbyville.  At a time when women were thoroughly discouraged from becoming physicians, her parents and a schoolteacher supported her early aspirations to study medicine.  In that era, medical students often obtained cadavers for anatomic education by surreptitiously robbing graves.  Alice and some like-minded high school classmates set out to do the same, until stopped by her alarmed father.  He then purchased a skeleton for her to learn anatomy in a more acceptable manner.
After high school and college, she taught briefly in a Shelbyville private school, but her desire to become a physician took her to the Women's Medical College of Pennsylvania, from which she graduated in 1909.  After internship, she practiced briefly in Columbus, Mississippi, before pursuing obstetrics residency training in New York and Philadelphia, and further post-graduate obstetrics studies at the New York Lying-in Hospital.  During World War I, she served as a volunteer civilian physician with the Red Cross in France for over a year.  Upon returning, she modestly said, "if I have anything to contribute, I want to give it to Kentucky."  She then came to Louisville to establish an obstetrics practice and to teach obstetrics at the University of Louisville School of Medicine.  Her skill, compassion, and personal kindness brought enormous respect and affection from patients, students, and peers, and she rose to become Chief of Obstetrics at the University of Louisville, a position she held for over 25 years.
Although gentle and reserved, she could act decisively when necessary.  When a late-term expectant mother with heart disease suddenly died at the Louisville General Hospital, there was no time to send for instruments.  She asked for a pocket knife from one of her students, and rapidly performed a Cesarean section that saved the baby.  Her commitment to teaching was intense, and she inspired exceptional admiration from her students, many of whom were drawn into obstetrics by her leadership.  She was affectionately called "Ma Pickett", and students continued to correspond with her for years after their graduation.
As a community medical leader, she established local and statewide clinics for prenatal care and birth control, and she wrote many articles and a regular column for the Journal of the Kentucky State Medical Association.  After 38 years of faculty service, Louisville's esteemed "Great Lady of Medicine" retired in 1952.  At her retirement testimonial, a colleague proclaimed her to be "…one of the best practical psychiatrist I have ever seen.  Her patients displayed toward her an affection and depth of feeling I have never seen associated with any other doctor."  She received many such accolades, always with exceptional humility and modesty.  The voluminous outpouring of respect and affection for her continued even after her death in 1971.  The School of Medicine is proud of the legacy of Dr. Alice N. Pickett and has named this college in her honor.
- Gordon R. Tobin, M.D.