Bodine College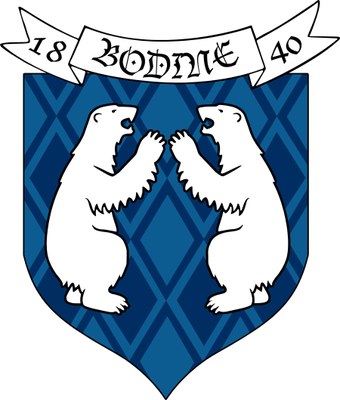 James Morrison Bodine, M.D. (1831-1915) was the longest-serving Dean of the University of Louisville, a highly acclaimed teacher, and a most picturesque character in Kentucky medical history.  In a school known for great anatomists, he was among the most renowned, and his pioneering studies on eye anatomy helped found the specialty of ophthalmology.  During his 40-year UofL Deanship, his remarkable leadership skills brought great curricular improvements and guided the School of Medicine though turbulent times to create the modern UofL.
James Bodine was born in Fairfield, in Nelson County, Kentucky, on October 2, 1831.  His father, Dr. Alfred Bodine, and mother, Fannie Maria Ray Bodine, came from distinguished pioneer families and were known for great intelligence and character.  After primary education in Fairfield, he graduated from Hanover College in Indiana.  He began medical studies as an apprentice to Professor Henry M. Bullitt, M.D., a founder of the Kentucky School of Medicine in Louisville, and he graduated from that school in March 1854.  He married Mary Elizabeth Crowe in December 1855, and they moved to the Kansas territory.  There, his practice thrived, and he established the first hospital in the territory.  Also, he was elected the first President of the Kansas Territory Medical Society.  In 1863, he returned to Louisville when appointed Chair of Anatomy in the Kentucky School of Medicine, where he demonstrated outstanding teaching skills.  In 1866, the Kentucky School of Medicine and University of Louisville Medical Department temporarily merged.  Although this lasted only a year, Bodine remained at UofL as Chair of Anatomy, a position he served until 1912.  His outstanding teaching style was most respected by students for its clarity and force, which greatly aided their retention of the subject matter.  His pioneering research in anatomy of the eye helped found the field of ophthalmology, which he practiced along with a prestigious general medical practice.  He was elected as the eighth Dean of the University of Louisville faculty in 1867, and his diplomacy and administrative skills kept him in that office throughout the turbulent times of the next 40 years.  Over that period, he oversaw substantial educational changes, including expansion of formal medical education from 2 to 4 years, and incorporation of scientific fundamentals into the medical curriculum.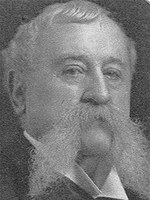 In 1876, his vision to improve instruction and advance standards of medical education through a national association of medical schools led to his calling the Nation's deans together and the founding of the American Medical College Association.  When the organization later dissolved, he founded the Association of Southern Medical Colleges for the same purpose, and he served as its first President, with re-election to several terms.  When opportunity for a national organization of medical colleges again emerged, he lent strong support in establishing the Association of American Medical Colleges and served as President in 1896, following William Osler, M.D.
In 1907 through 1909, his leadership and diplomacy skills again served in guiding merger of Louisville's five medical schools into one, the modern University of Louisville.  Recognition of this significant contribution came in form of election as President of the merged faculty, a position he held until retirement in 1913.  The University and city he served so well expressed great accolades upon his retirement, and again on his death in 1915.  The School of Medicine is proud of the legacy of Dr. James Morrison Bodine, and has named this college in his honor.
- Gordon R. Tobin, M.D.