Pediatric Sleep Medicine
Pediatric Sleep Medicine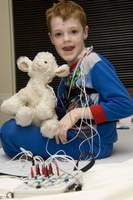 Weekly outpatient clinics are conducted to allow for initial assessment, with additional testing and treatment coordinated and performed as needed. All nighttime sleep technologists have special training in pediatric care. They are well-versed in the management of complex sleep disorders, and have continuous unrestricted access to the sleep physician on call throughout the duration of sleep studies.
Our practice is the only designated pediatric sleep practice in Kentucky (Newborn – 18).
Over the years, Louisville's sleep medicine clinicians have published many articles in refereed high impact journals and have served on many national academic committees and task forces.
Symptoms could be:
Snoring
Daytime sleepiness
Nightmares
Sleep walking
Leg twitches
Poor school performance
High blood pressure
Behavior issues
Sleep Testing and Evaluation
Sometimes sleep studies are required, which means a child and parent will spend an afternoon or night. Parent and child share a room. The child sleeps in a comfortable bed or crib and the parent has a separate bed.  Each room has private restroom facilities, including a shower.
For the study, electrodes are taped to the child's head, face and chest and worn during sleep. These painless wires track sleep stages, breathing patterns, heart activity, oxygen and carbon dioxide levels and body movements as well as other information.
A trained technologist continuously monitors the child and equipment throughout the study. After testing is complete, the data are analyzed and a written evaluation is sent to your child's referring physician.
Continuous Positive Airway Pressure (CPAP)
This nasal mask, which is worn during sleep, helps keep breathing passages open and treats sleep apnea. The equipment is available for home use, if the sleep study is abnormal.