About Us
Pediatric Gastroenterology
The University of Louisville Division of Pediatric Gastroenterology serves infants and children of Kentucky and southern Indiana with gastrointestinal, hepatobiliary, pancreatic disorders and nutritional problems. In addition, the division follows children who have undergone liver and/or small bowel transplantation.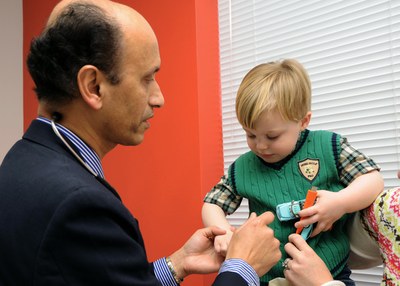 Through our clinical office we provide a full range of diagnostic procedures and treatments related to the gastrointestinal tract, liver and pancreas including inflammatory bowel disease, chronic diarrhea, failure to thrive, gastroesophageal reflux, constipation/encopresis, malabsorption syndrome, acute and chronic liver disease.
Procedures performed include endoscopy of the upper and lower gastrointestinal tracts; capsule endoscopy; biopsy of the esophagus, stomach, small bowel, large bowel and liver; polypectomy; motility studies of the gastrointestinal tract; pH probe testing for gastroesophageal reflux; and breath hydrogen testing.
Our team also includes a highly skilled and well-equipped pathology staff and nutritionists.
Meet our Team
by 1167455 — last modified Nov 18, 2020 10:30 AM
Pediatric Gastroenterology
Academic Office
571 South Floyd Street, Suite 325, Louisville, Ky 40202
P: (502) 852-3874  |  F: (502) 852- 4093
Kourtney Sexton
Academic Key Contact
P: (502) 852-3874  l  F: (502) 852-4093
---
Faculty
Andrew Buckley, DO
Norton Children's Profile
---
Lynette Gillis, MD
Interim Division Chief, Pediatric Gastroenterology
Norton Children's Profile
---
Maria F. McCafferty - Khan, DO
Norton Children's Profile