Child and Adolescent Psychiatry Fellowship Program
Welcome
The Child and Adolescent Psychiatry Fellowship program at the University of Louisville is a two-year, ACGME- accredited fellowship that provides a comprehensive experience in the diagnosis and treatment of psychiatric disorders in children and adolescents.
Our program is developmental and psychodynamic in orientation with a strong emphasis on advancements in neuroscience. Our goal is to graduate highly skilled and compassionate clinicians who are prepared to step into clinical, research, and education environments, as leaders in psychiatric care.  We facilitate this goal by the unique positioning of the Child and Adolescent Psychiatry Fellowship as a division within the Department of Pediatrics at the University of Louisville School of Medicine.  Our fellows learn to function as members of an integrated team alongside doctoral and masters level psychology trainees and pediatric residents at Norton Children's Hospital and at the innovative pediatrics clinical outpatient setting of Novak Center for Children's Health.
At the close of training, our fellows are prepared to take the American Board of Psychiatry and Neurology's sub-specialty examination.
---
About our Program:
The Division of Child and Adolescent Psychiatry and Psychology provides an array of clinical services through efforts of child and adolescent psychiatrists, child and adolescent psychologists, advanced trainees in fields of child and adolescent psychiatry and psychology, and clinicians who staff the Norton Children's Mental and Behavioral Health – Bingham Clinic. These services cover a broad range of clinical disorders, provide a continuum of care for the community, and serve as a local and regional resource for the most complex psychiatric problems of children and adolescents.
The Norton Children's Hospital Emergency Room is the primary receiving facility for acute child and adolescent psychiatric emergencies. The division provides 24-hour coverage for this service, including face-to-face consultations throughout the weekdays, and emergency consultations on the weekend.
The goal of the University of Louisville Child and Adolescent Psychiatry Fellowship is to produce psychiatrists that specialize in the delivery of skilled and comprehensive medical and psychiatric care of children and adolescents suffering from psychiatric disorders. In selecting applicants and training residents, the faculty and professional staff of the Division of Child and Adolescent Psychiatry is committed to the career development of trainees, promoting clinical excellence and professional integrity. The Division is also committed to selecting applicants with diverse backgrounds and experiences.
The Child and Adolescent Psychiatry Fellowship is structured as a two year program available after completion of the PG-3 or PG-4 year. Fellows will be required to obtain competence in the following areas driven by the ACGME core competencies:
Direct Patient Care
Medical Knowledge
Practice-based Learning and Improvement
Interpersonal and Communication Skills
Professionalism
Systems-based Practice
To achieve competency in these areas, our residents sharpen their clinical and academic skills in a wide range of settings: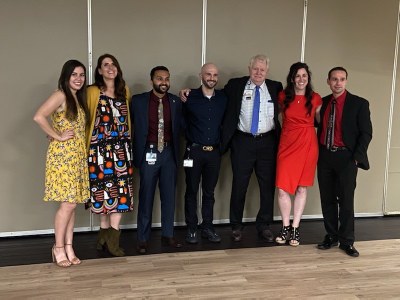 Outpatient Medication Management
Long-term Psychotherapy
Inpatient Psychiatry
Emergency Psychiatry
Consultation-Liaison Service
Community Psychiatry
Jefferson County Public Schools
University of Louisville Autism Center
Outpatient Pediatric Neurology
Private psychiatric practice
Integrated Pediatrics Clinic
Year One
Inpatient Psychiatry (4 months):
The 20-bed Ackerly Child Psychiatry Inpatient Unit at Norton Children's Hospital provides intensive diagnostic and treatment services for children and adolescents in severe mental health crisis. These services include psychiatric and psychological evaluation, individual, group and family therapies and educational evaluations. Many children require medical evaluations in the coordination of psychiatric treatment; this is provided by consultants from Norton Children's Hospital. Hospitalizations are as brief as possible and discharge planning is initiated at the time of admission to allow the most appropriate follow up care to be provided. Ackerly has become a regional referral center with an excellent reputation. Caring for children and adolescents on the acute inpatient unit is valuable experience for residents to learn about acute management of psychiatric emergencies, psychopharmacology, child development, community resources and to work as part of a multidisciplinary team.
Community Psychiatry including Specialty Clinic Experience (4 months):
This rotation is divided between multiple sites to provide broad and diverse opportunity for training. The Crisis Stabilization Unit (CSU, 3 days per week) is an intensive, short-term inpatient program for children who do not need hospitalization, but require intervention beyond outpatient treatment. The CSU also provides step-down services for individuals discharging from psychiatric facilities who need additional support prior to returning home. While at the CSU, children receive individual counseling, a complete mental health assessment, pharmacological management, case management services and connection to local resources. This experience provides trainees with a closer look at community mental health services in Louisville. Seven Counties Residential Treatment Center (1 day per week) helps youth learn ways to manage their behavioral issues that may have resulted from their past trauma, and have caused the youth, family and/or guardian stress. During these long term treatments, individuals learn basic and advanced social skills that help build self-esteem, communication, self-awareness and healthy relationships. Many children in Kentucky, particularly those in foster care, are treated in psychiatric residential treatment facilities. While at residential facility, guests receive individual counseling, a complete mental health assessment, pharmacological management, case management services and connection to local resources. During this rotation, residents have the opportunity to learn what life is like in a residential treatment setting and participate in their care.  Our private practice (1 day per week) rotation enables you to gain experience with outpatient child and adolescent private practice setting as well as increase your knowledge about how private practice setting functions.
Emergency Psychiatry (4 months):
This hybrid rotation is divided between multiple sites to further bolster your training experience. Norton Children's Hospital Emergency Psychiatric services (3 days per week) provides services to children and teens with a psychiatric emergency. Individuals are evaluated the appropriate level of care is determined by a Child and Adolescent Psychiatrist during business hours. Recognizing pediatric psychiatric emergencies, as well as indications for lower level of care is a crucial skill for child and adolescent psychiatrists. This rotation will develop that skill and serve to familiarize you with various levels of mental health care in the community. The University of Louisville Autism Center (1 day per week)provides multidisciplinary evaluation and treatment of children and teens with autism spectrum disorders and their families to achieve positive outcome. The Child Psychiatrists work alongside Child Neurologist, Developmental Pediatrician, Psychologists, Occupational therapists and ABA therapists to provide optimal care. The Pediatric Neurology Headache Clinic (1/2 day per week)provides a multi-disciplinary exposure to learn about psychological and psychiatric aspects in managing various headache conditions.
Psychotherapy Clinic:
Fellows begin seeing therapy patients in the outpatient clinic (1/2 day per week) for the duration of their fellowship. Fellows are assigned a therapy supervisor with whom they meet weekly to discuss these patients and learn the art of psychotherapy.
Didactics:
One half day per week is dedicated for didactics and Academic Hour Conferences during lunch on Wednesday.
---
Year Two
Community and Integration:
This is a core outpatient medication management rotation that involves multiple sites and diverse environments. Integrated Care Pediatric Clinic (3 days per week) is a collaborative care outpatient clinic that fully models integrated care with General Pediatric clinic. In this clinic, you will work alongside General Pediatric providers to better meet the aim of improved patient outcomes as well as assist pediatricians with diagnosing and treating common mental health issues in children and adolescents.  School-based services (1 day per week) provide outpatient medical management to children and youth in the community. Through partnering with Jefferson County Public Schools, the fellow can serve youth in a familiar setting, offering minimal interruption to their school day.
Administrative Psychiatry:
The goal of this rotation is to facilitate the development of leadership and administrative skills as this will be an important role fellows will serve as they transition to practicing independently. During this rotation, fellows will be entrusted with administrative responsibilities on both inpatient and outpatient settings, as a teacher, as well as learning public policy making and advocacy at the state level through a partnership with the Kentucky Department of Child and Family Services.  Additionally during this rotation, there will be an opportunity for elective experiences for those who are interested.
Consult-Liasion:
The division provides active consultation liaisonservices to the pediatric wards of Norton Children's Hospital. Helping children of families cope with illness and the effects of trauma, as well as acute sequelae of suicide attempts, are the most common interventions provided. The Consultation Team includes the chief of the service, several child and adolescent psychologists, and consulting trainees in both psychology and psychiatry. The Outpatient Pediatric Neurology Clinic (1/2 day per week) provides a multi-disciplinary exposure to learn about psychological and psychiatric aspects in managing various complex neurological conditions such as tics and tourette syndromes, seizure disorders and developmental delays.
Continuity Clinic: Outpatient care at Bingham Clinic:
The Bingham Clinic has been in existence since 1913 and is one of the oldest child guidance centers in the country. The clinic provides outpatient psychiatric services for local children and for children throughout the region. These services include careful psychiatric and psychological evaluation and treatments, including pharmacotherapy, individual psychotherapy, family therapy, and education. Fellows will provide outpatient medication management services (1/2 day per week) for the duration of their second year of fellowship. Direct supervision of each patient is provided by a child psychiatrist on the teaching faculty.
Psychotherapy Clinic:
Fellows continue seeing therapy patients in the outpatient clinic (1/2 day per week) for the duration of their fellowship.  Fellows are assigned a therapy supervisor with whom they meet weekly to discuss these patients and learn the art of psychotherapy.
Educational and Scholarly Activity

Journal Club:  Each fellow will present alongside a faculty mentor to present a journal club emphasizing fellow teaching, topics relevant to training, and current research to the division once each year.    
Case Conference:  Each fellow will select, work-up, and present an interesting case as illustrative of a particular pathology or treatment modality with the mentorship of an assigned faculty member to the division for discussion annually
Grand Rounds:  Divisional grand rounds occur once per month at the noon hour for the entire Division of Child and Adolescent Psychiatry and Psychology.  Guest speakers may be from within our university or from other universities. 
Research Experience:  First Year trainees function as a team, selecting a topic that can be developed, studied, and displayed as a poster presentation for the Department of Pediatrics Research Day, Research! Louisville, or the annual meeting of the American Academy of Child and Adolescent Psychiatry.  Time is protected each week to devote to this project along with a faculty mentor.  Recent trainees have looked at the association of Adverse Childhood Experiences (ACEs) with bullying, and the association of screen time with anxiety and depression.
Quality Improvement Experience:  During the second year of training, fellows work alongside pediatric residents on a quality improvement project with the overall goal of improving pediatric fellows ability to manage basic mental health issues in the primary care setting.  This project is mentored by one general pediatric faculty and one child psychiatry faculty. 
Learning Alongside Pediatricians:   Throughout your training, there are numerous educational opportunities to learn and grow with fellows from other pediatric specialties as well as faculty throughout the department of pediatrics.  These opportunities include departmental grand rounds, case conferences and lunch and learn opportunities.
Jennifer Le, MD
Division Chief & Residency Training Program Director
Email
---
LaJa Hurt
Program Coordinator
Email  | 502-588-0800
Current Fellows
First year fellows
Kristine Baula, MD
Hometown: Elizabethtown, KY
Undergrad: Western Kentucky University
Medical School: University of Louisville

Mahmood "Emon" Hossain, DO
Hometown: Pine Bluff, Arkansas
Undergrad: University of Arkansas at Little Rock
Medical School: Philadelphia College of Osteopathic Medicine - Georgia Campus
"I chose UofL because I wanted the perfect work-life balance. I get to be in a low-stress environment while still at a reputable academic institution with excellent training and a cool group of co-fellows and attendings, all while still living in a decent-sized metropolitan area with things to do, places to eat, convenient proximity to nearby cities, and plenty of time to moonlight (or whatever else I want to do). Once I interviewed here, I knew it would be difficult to beat Louisville."
Second year fellows:
Parth Brahmbhatt, MD (PGY-4)

Hometown: Ahmedabad, India
Medical school: Smt. NHL Muncipal Medical College
"I have done my general psychiatry residency at University of Louisville and currently doing child and adolescent psychiatry fellowship from University of Louisville as well. I have been living in Louisville since 2016. As a fellow, I have excellent work life balance. I never feel I am overworked but at the same time I am receiving ample training. Faculty is very supportive and friendly. I always feel heard and can go to the faculty for any issues."  "I love Louisville as a city. Plenty of outdoor options and ample things to do for entertainment. Louisville parks system was designed by Frederick Law Olmsted, who also designed the Central Park in NYC. I love hiking in parks around the city. Food scene is excellent with plenty of amazing local restaurants."
Azra Lynn, MD (PGY-4)
Hometown: Louisville, KY
Undergrad: University of Kentucky
Medical School: University of Louisville
Naren Theja Vellanki, MD (PGY-4)
Hometown: Columbus, OH
Undergrad: The Ohio State University
Medschool: University of Toledo
"My favorite part about our Child Psychiatry program is the faculty. They are friendly, approachable and genuinely interested in teaching. I consistently get the sense that my opinions matter both in terms of patient care and in all other aspects of my fellowship."  "Louisville is a friendly, diverse and cost-efficient city. There is so much to do and see here: from bourbon trails, hipster bars to parkland parks and of course the derby." "Overall, I am extremely happy with my decision to pursue my fellowship here!"
---
Recent Graduates:
Patrick W. Conway, DO, MDiv (PGY-6)
Graduate: 2020
Pine Rest Christian Mental Health Services, Grand Rapids, Michigan
Child and Adolescent Psychiatrist
"This program was so welcoming. There is warmth and acceptance here. There aren't too many places in the world like University of Louisville. I've considered myself lucky to have been a part of this program. I hated to leave, and I miss all the people I worked with over the two years of fellowship. I feel very fortunate to have trained here."
Paul Tom Parackal, MD (PGY-5)
Graduate: 2020
Stratford General Hospital, Stratford, Ontario, Canada
Adult & Child/Adolescent Psychiatrist
"I have appreciated how much I've grown as not only a physician but as an individual over my years of training at University of Louisville. My supervisors were helpful and insightful, especially when I hit a wall with a patient and didn't know what to do. I couldn't have picked a better group of people to work with. The attendings encourage you, believe in you and see qualities in you that you don't always see in yourself. The leadership in this department is superior. Doing my fellowship here has motivated me to be a lifelong learner so that I can be a better psychiatrist each day to provide better care to my patients."
Tymberly Seim, MD (PGY-5)
Graduate: 2020
Salem Psychiatric Associates & Childhood Health Associates, Salem, Oregon
Child and Adolescent Psychiatrist
"It's easy to balance work and home-life in this program.  We are encouraged to care for our mental health, interests outside of medicine and tend to our overall well-being. When it is time to relax, there is always something to do in Louisville. It is sometimes hard to decide what to do because there are so many choices! No shortage of family-friendly activities, great restaurants and access to nature. Bernheim Forest and Jefferson Memorial Forest are just a short drive away."
---
Louisville... a Great Place to Live, Work, and Learn!
---
Louisville. It's Happening Here!
Whether you like food, the arts, sports, parks, or just really cool architecture, Louisville has something for everyone!  The home of the Kentucky Derby is a charming Southern city offering more than just a thrilling 2 minute horse race.  Louisville is a progressive community of nearly 1 million people with a robust economy.
Situated on the banks of the Ohio River, America's 17th largest city boasts a cost of living that is substantially lower than the national average, with a broad range of affordable housing options from high-rise apartments and historic Victorian homes to suburban communities and rural farms.
Entertainment and recreational options include the city's highly regarded symphony, ballet and Actors Theater of Louisville, the Speed Art Museum, University of Louisville collegiate sports, The Louisville Bats minor-league baseball team and one of the nation's finest systems of urban parks, designed by Frederick Law Olmsted, the father of American landscape architecture.
Louisville also plays host to a wide variety of regional celebrations, including the St. James Court Art Fair and the Kentucky Derby Festival — two weeks of non-stop entertainment that ranges from the quirky to the sophisticated, with signature events like a paddle-wheel riverboat race, Southern-style galas and one of the country's premier air shows, all leading up to the most exciting two minutes in sports: The Kentucky Derby.
With such a vibrant quality of life, Louisville is a great place to call home. For more about Louisville, visit Greater Louisville Inc., the Metro Chamber of Commerce. 
---
Louisville is located on the banks of the Ohio River in north-central Kentucky and is readily accessible by three Interstate highways, I-64, I-65 and I-71. Louisville International Airport also offers direct service to and from major destinations across the United States. For local transportation, The Transit Authority of River City operates an extensive network of bus routes across Louisville and surrounding counties, including locations in Southern Indiana.
Louisville is just a day-trip away from several mid-west destinations:
Cincinnati, OH - 105 miles
Indianapolis, IN - 115 miles
St. Louis, MO - 260 miles
Nashville, TN - 175 miles
Chicago, IL - 296 miles