Research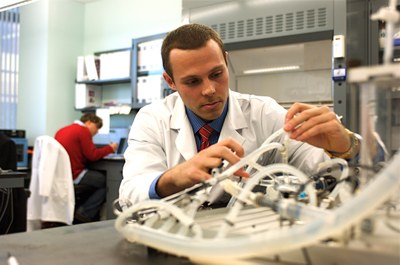 The School of Medicine has entered a phase of dynamic growth stimulated by the addition of space in state-of-the-art research buildings and the recruitment of a new generation of endowed research professors through the Kentucky Commonwealth's Bucks for Brains program. This growth has resulted in an increase in research funding over the past few years.
The school has targeted multiple areas in molecular medicine and biotechnology for scientific excellence, including therapeutic oncology and tumor cell biology, cardiovascular disease research, transplantation and immunology, neurobiology, aging, ophthalmology and visual sciences, and contemporary issues in public health and bioethics. Our scientific investigators are working to develop new strategies to combat common diseases in our society, such as breast and lung cancer, sickle-cell anemia, AIDS, diabetes, digestive diseases, paralysis caused by spinal-cord injury, and childhood academic problems caused by sleep disorders. New multidisciplinary centers have been established to study and identify mechanisms to decrease heart damage after a heart attack and to support cardiovascular function with internal artificial hearts and stimulate spinal cord regeneration with neural stem cells. UofL also has a prominent team researching the genetics of aging using microarray technology and an internationally recognized group pioneering hand transplantation.
These are only a few of the exciting research projects that are underway at the University of Louisville. Please contact us and share our enthusiasm.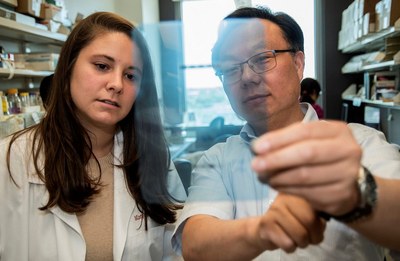 Basic Science Departments
Anatomical Sciences and Neurobiology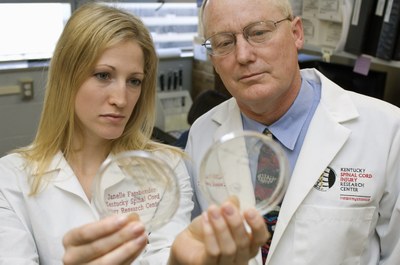 Biochemistry and Molecular Genetics
Many Research Opportunities
The School of Medicine at the University of Louisville offers many outstanding research opportunities in which MD/PhD students can obtain research training and excellent credentials. Examples of opportunities include, but are not limited to: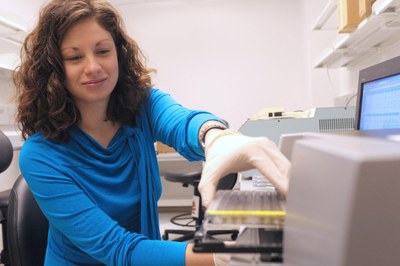 Research Mentors
MD/PhD students have the opportunity to complete a rotation prior to and after their first year of Medical School within laboratories they are considering for their dissertation. This allows the student to become familiar with the lab environment, the research projects, and the mentor, before committing to the laboratory and dissertation mentor. If the mentor is associated with more than one graduate department, you will need to determine which department would be best for you to reach your goals.
Examples of Current and Past Mentors