---
Message from the Chair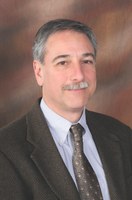 The year of SARS-CoV-2!   We had to adapt like everyone else.  Teaching faculty quickly pivoted to online instruction and research activity was restored to near-normal levels following a one month shutdown in Spring 2020.  Despite the distractions Department received new NIH funding in excess of $4M and graduated a near record 9 PhD students.   Our first-ever T32 program in "Inflammation and Pathogenesis", which supports 4 trainees annually, entered its third year with 3 trainees graduating in 2020.  We also welcomed Dr. James Collins, a new tenure-track Assistant Professor who studies enteric microbes and the environmental factors that affect their biology.
Items of Interest
Graduate Programs: M.S., Ph.D.
Final Application Deadline: March 1
Full consideration Deadline: January 15
Center for Functional Microbiomics, Inflammation and Pathogenicity
Center for Predictive Medicine 
Student Highlights
M&I Graduate Student Publishes New Findings in Microbiology Spectrum
Henry Nabeta, M&I PhD candidate in the lab of Dr. Kenneth Palmer, recently published a paper in Microbiology Spectrum. His study has identified Q-GRFT, a broad-spectrum antiviral protein that harbors growth-inhibitory activity against several Candida strains, as a potential candidate for the prevention and treatment of fungal infections. The paper, titled "Novel Antifungal Activity of Q-Griffithsin, a Broad-Spectrum Antiviral Lectin" can be found here.
M&I Graduate Student Publishes New Findings in Frontiers 
Hazel Ozuna, M&I candidate in the lab of Dr. Silvia Uriarte, recently published a paper in Frontiers in Immunology showing that A. actinomycetemcomitans promotes azurophilic granule exocytosis by neutrophils as an epinephrine source to promote bacterial survival. The paper, titled "The Hunger Games: Aggregatibacter actinomycetemcomitans Exploits Human Neutrophils As an Epinephrine Source for Survival" can be found here. Image: Hazel Ozuna
M&I Graduate Student Recognized at FASEB Conferences
Sarah Price, M&I PhD candidate in the Lawrenz Lab, won a Top Poster Award at the FASEB Microbial Pathogenesis Conference: Mechanisms of Infectious Disease held July 13-15, 2021 on her work to define the secretion system for the metalophore yersiniabactin. Sarah was also chosen to give an oral presentation at the FASEB Nutrition, Immunity, and Inflammation Conference: From Model Systems to Human Trials to be held July 27-29. She will present her work defining an iron independent role for yersiniabactin in plague virulence.
Microbiology & Immunology Seminar Series
Microbiology & Immunology Seminar Series
Thursdays at 12:00 p.m. 
unless otherwise indicated
Faculty Highlights
Dr. Carolyn Roberson was awarded the Gender Equity Award by the American Medical Women's Association. The Gender Equity Award honors outstanding contributions of medical school faculty who promote a gender-equal environment in the education and training of physicians. Congratulations Dr. Roberson! 
Dr. Carolyn Casella was selected by School of Medicine Class of 2022 to receive the Golden Apple Award for the 2019-2020 school year.  The Golden Apple Award is given to faculty who demonstrate outstanding teamwork, professional responsibility, and consideration of medical students. Congratulations Dr. Casella!