Master's Entry into Professional Nursing Clinical Nurse Leader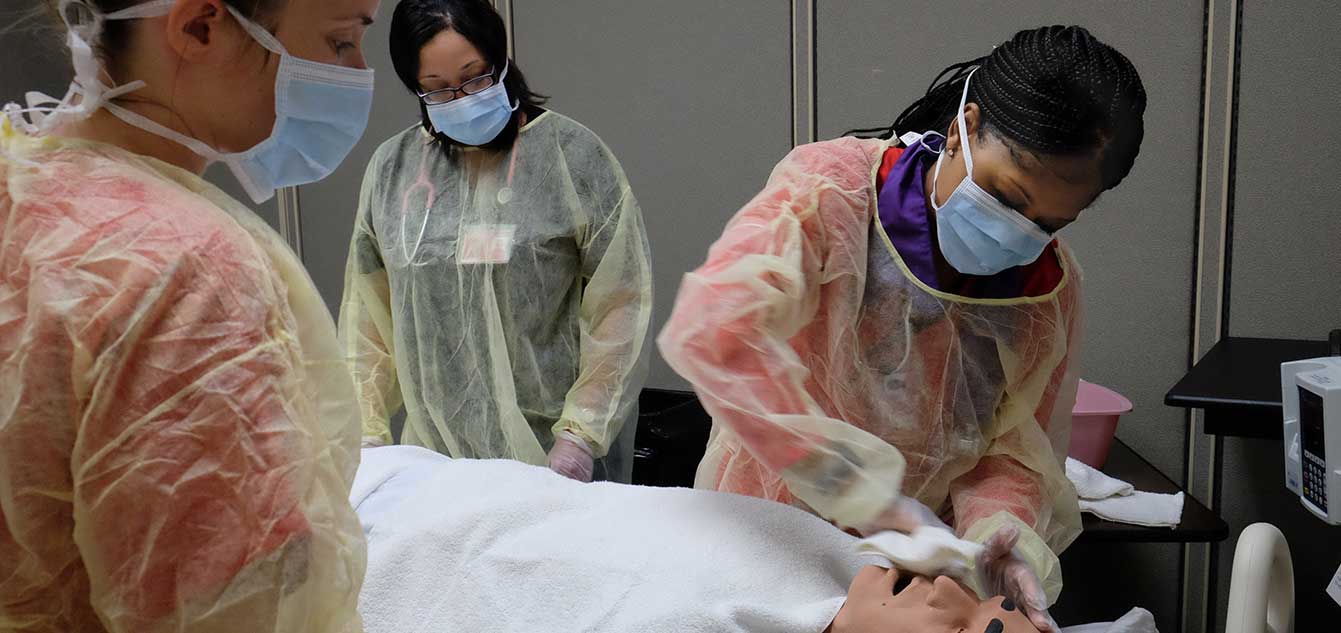 Career Changers Welcome!

The Master's Entry into Professional Nursing (MEPN) Clinical Nurse Leader program (CNL) is an on-campus accelerated program that prepares students with a bachelor's degree in any area outside of nursing to become entry-level professional nurses. MEPN students earn Bachelor of Science in Nursing and Master of Science in Nursing degrees. Graduates are eligible to take the National Council Licensure Examination (NCLEX-RN) for registered nursing licensure and the Clinical Nurse Leader Certification Examination offered by the AACN Commission on Nurse Certification. The MEPN program is ideal for career-changers seeking an exciting new start in the health care profession.
Preparing Future Nurse Leaders

We know that higher levels of education are associated with better patient outcomes. MEPN students receive additional education specific to have greater training in evidence-based practice and leadership. Both of these areas are essential for nurses practicing in today's changing healthcare environments. The graduate-level of education offered through this program can provide our nursing alumni more opportunities to move into leadership positions in various healthcare settings on their units.
Program Features
Two year (six semester) full-time program
Courses offered on research-intensive Health Sciences Center (HSC) campus
Clinical experience begins in the first semester
Over 900 total clinical hours in a variety of clinical settings in Louisville Metro area including the CNL immersion consisting of 336 clinical hours in the final two semesters
600 and 700 level courses delivered in a blended online and on-campus format
Integrated learning in collaboration with UofL HSC community
Experience in an on-site Learning Resource and Simulation Center
Learning Opportunities
Licensure Disclosure
Graduates from the UofL School of Nursing are prepared to apply for RN licensure upon graduation; however, educational preparation does not guarantee professional licensure. If you have questions regarding Kentucky RN licensure, please contact the Kentucky Board of Nursing (kbn.ky.gov/apply/Pages/Examination/examination.aspx). For RN licensure questions in other states, please contact the respective state board of nursing (ncsbn.org/contact-bon.htm).
Information Sessions

Interested in learning more about the Master's Entry into Professional Nursing Clinical Nurse Leader program? Virtual information sessions will be held via Microsoft Teams.
Monday, October 3, 12 – 1 pm
Wednesday, October 12, 6 – 7 pm
Wednesday, October 26, 12 – 1 pm
RSVP here 
Recent News
Long-time nursing faculty member Dr. Said Abusalem was selected as director of the MEPN Clinical Nurse Leader program. Abusalem has taught in the program since its inception in 2015.
Ready to Get Started?