Master's Entry into Professional Nursing Program
Master's Entry into Professional Nursing Program
The Master's Entry into Professional Nursing (MEPN) program is a two-year program that prepares students with a bachelor's degree in any area outside of nursing to become entry-level professional nurses. MEPN students earn a Bachelor of Science in Nursing and a Master of Science in Nursing degrees. Graduates are eligible to take the National Council Licensure Examination (NCLEX-RN) for registered nursing licensure.
We know that higher levels of education are associated with better patient outcomes. MEPN students receive additional education specific to have greater training in evidence-based practice and leadership. Both of these areas are essential for nurses practicing in today's changing healthcare environments. The graduate-level of education offered through this program can provide our nursing alumni more opportunities to move into leadership positions in various healthcare settings on their units. The MEPN program is ideal for career-changers seeking an exciting new start in the health care profession.
Read a first-hand account from a May 2017 MEPN program graduate
UofL Today radio show featuring MEPN Program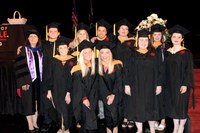 "Nursing incorporates skills outside of health sciences, like the critical thinking aspects of liberal arts. You become even more holistic as you go through the MEPN program."
- Meredith Grisanti, 2017 graduate
The baccalaureate degree in nursing, and master's degree in nursing programs at University of Louisville School of Nursing are accredited by the Commission on Collegiate Nursing Education, 655 K Street, NW, Suite 750, Washington, DC 20001, 202-887-6791 http://www.ccneaccreditation.org.  The school received reaccreditation in 2011 with regular reporting for a period of ten years. Our next accreditation review will be completed before 2021.
The University of Louisville is accredited by the Commission on Colleges of the Southern Association of Colleges and Schools (SACSCOC) www.louisville.edu/accreditation