Debra Anderson, PhD, PHCNS-BC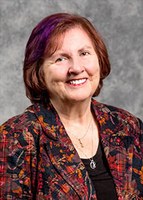 Debra Anderson, PhD, PHCNS-BC
Professor
dgande04@louisville.edu
502.852.8095
---
Dr. Debra Anderson received an MSN in community health nursing from Indiana University and a PhD in family nursing from Oregon Health Sciences University. Their dissertation, Homeless Women: Their Perceptions about Their Families of Origin, was supported by a National Research Service Award. They received a postdoctoral fellowship from OHSU's NIH Institutional Training Grant, Families in Health, Illness, and Nutrition.
Dr. Anderson's research trajectory was launched with an AREA grant from the National Institute of Nursing Research, Factors Influencing Homelessness in Women following postdoctoral work. Their vulnerable population work has been published in the Western Journal of Nursing; Journal of Obstetrics, Gynecologic, and Neonatal Nursing; and Public Health Nursing. Dr. Anderson's study, Violence and Stress Experienced by Female Long-Haul Truckers, focused on another vulnerable group of women. That work provided pilot data for an R01 study funded by the National Institute for Occupational Safety and Health on workplace violence among both male and female long-haul truckers. While employed at the University of Kentucky, another funded study, Workplace Violence and Women Residing in Battered Women Shelters, combined two areas of interest, workplace violence and homeless women.
Prior to joining the University of Louisville, School of Nursing, Dr. Anderson served as the Associate Dean of Research at the South Dakota State University College of Nursing. As Professor and Associate Dean of Well-Being and Operations at the UofL School of Nursing, their research expertise in workplace violence, homelessness, vulnerable populations, domestic violence and occupational health will be useful to enhance scholarship efforts through the mentorship of faculty and students. In addition, their experience as Director of Work-Life Engagement will be used to enhance the work site in an effort to help faculty and staff achieve work-life harmony consistent with their own individual and institutional values.
Education:
PhD: Nursing, Oregon Health Sciences University
MSN, Indiana University
BSN, University of Indianapolis
ADN, Vincennes University