Neuroradiology Fellowship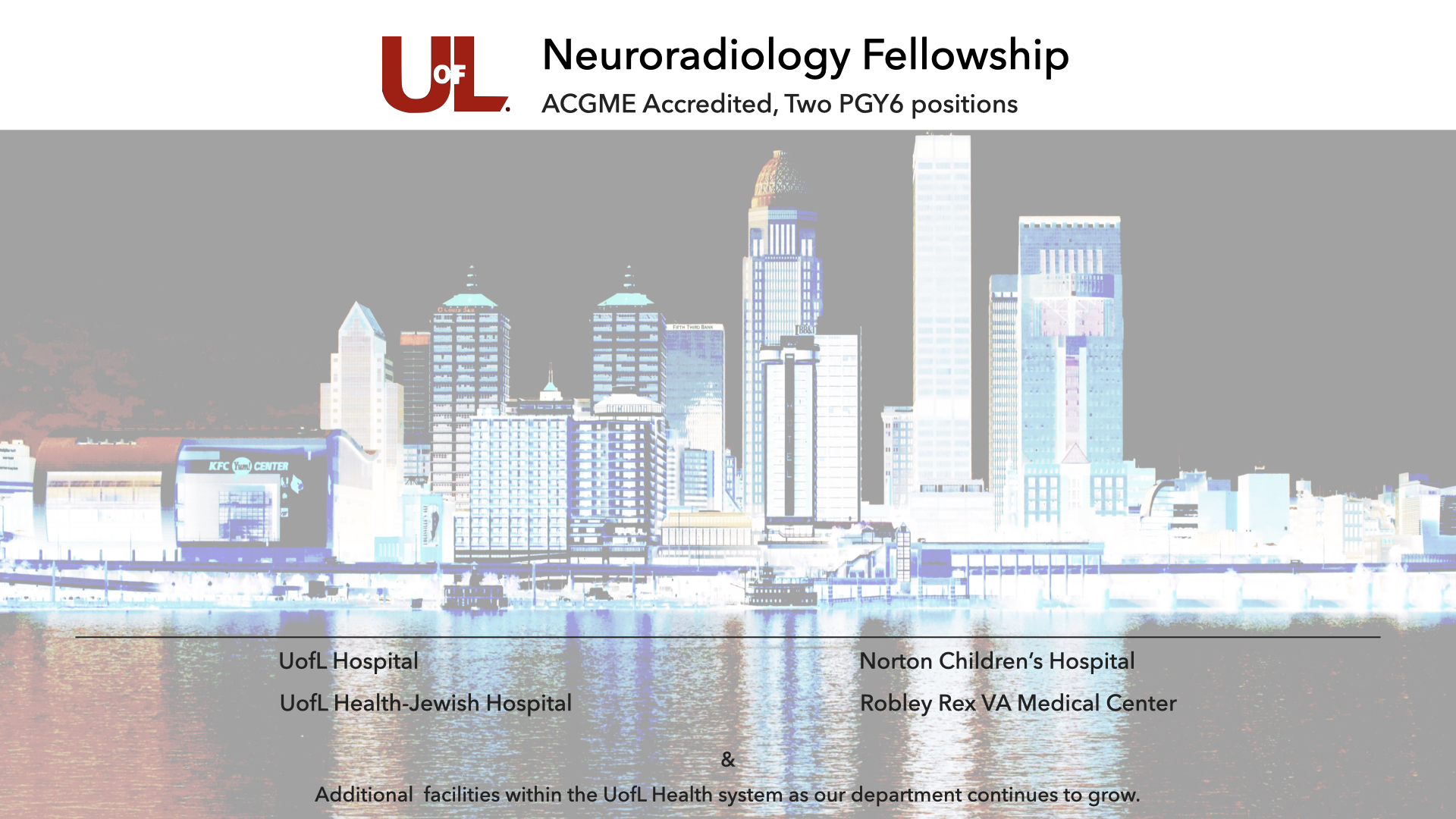 Welcome to the University of Louisville Neuroradiology Fellowship website!
The University of Louisville Neuroradiology Fellowship Program strives to produce well rounded neuroradiologists with exposure to all facets of neuroradiology and closely aligned disciplines, who are able to excel in either an academic or private practice setting. We are committed to maintaining a high level of diversity and continuing to cultivate an environment of inclusion. We aim to provide excellent patient care to our community, achieved by providing fellows with a comprehensive educational curriculum combined with a vast patient population afforded by University of Louisville's Hospital's accredited Level 1 trauma center, stroke center and cancer center, and multiple specialty clinics, Jewish Hospital, Veterans Affairs Medical Center, and Norton Children's Hospital. Our Program also strives to support for fellows' academic accomplishments which will provide a framework for their future endeavors. 
Program Leadership
Associate Professor, Department of Radiology
Program Director, Neuroradiology Fellowship
University of Louisville School of Medicine
Curriculum
Drawing from the diverse experience and depth of our faculty who have trained and practiced in varied settings nationwide, as well as our strong referral services in the setting of a comprehensive cancer program, comprehensive stroke center as well as a level 1 trauma center, we meticulously re-imagined and designed this fellowship to provide an innovative comprehensive neuroradiology education in an academic setting with a contemporary multidisciplinary focus. In addition to core rotations comprising head, neck, brain and vascular neuroradiology, there are rotations in neuropathology and radiation oncology that round up a rich and comprehensive fellowship.
Advanced neuroimaging studies include MR spectroscopy, functional MRI, tractography, MR and CT perfusion, as well as molecular imaging (nuclear medicine/PET). A free-standing Clinical and Translational Research building next to UofL Hospital incorporates a full-size 3T MRI research scanner as well as 9-Tesla MRI and high-resolution PET-CT for small animal imaging.
Procedural experience includes catheter angiographic experience with neurosurgery, spinal taps and myelograms, vertebral augmentations and biopsies in conjunction with interventional radiology, and an elective procedural rotation in pain medicine. Pediatric neuroradiology will be at Norton Children's Hospital, a pediatric level 1 trauma center that is already the home of all UofL pediatric programs. These are complemented by a strong didactic program, regular multidisciplinary conferences, and research opportunities.
Research
Many prospects for neuroradiology research are available at the University of Louisville, and fellows are encouraged to take part in these opportunities. If a project leads to presentation at a national meeting, the Department will offset the cost in accordance with University guidelines.
Call Responsibilities
In-house call includes weekend daytime call, typically 8am-5pm 13 weekends/year, and extended shift 5-9pm 20-25 times/year (or 5-8pm weekly on the VA block only). Overnight call is not a part of this program currently.
Endovascular Neurosurgery fellowship pathway option
Candidates who are motivated to pursue a subsequent Endovascular Neurosurgery Fellowship pathway are highly encouraged to also visit our Neurosurgery department's CAST-approved CNS Endovascular Neurosurgery Fellowship page, to reach out to the Endovascular fellowship, and also let the Neuroradiology fellowship know early in your application process of your interest, as a diagnostic neuroradiology fellowship is a prerequisite for radiologists entering this training pathway. The UofL CNS Endovascular Neurosurgery Fellowship web page is at endovascular fellowship.
Stipends & Cost of Living in Louisville
Louisville is a very affordable city, with a cost of living 5.9% below the national average. With a median home price of $138,900, many residents and fellows choose to purchase a home or condo during their time here. Be sure to visit our Living in Louisville webpage. Below is the fellow stipend rate for the 2023-2024 academic year:
| | | |
| --- | --- | --- |
|   | Annual | Monthly |
| PGY 6 | $72,959.56 | $6,079.96 |
University Benefits
The University of Louisville has a competitive benefits package for fellows, including the following insurance plans: Health, malpractice, disability, life, and accident. Additionally, the Ophthalmology Clinic offers a discount on eye examinations and the Dental School offers a complete dental program.
The GME office provides free parking permits to fellows for the HSC 620 parking garage.
Fellows have full access to the University's many fitness facilities free of charge. Family members are also allowed to use facilities for an additional fee.
Fellows are eligible to purchase student athletic tickets, which are offered at reduced rates through the Athletics Department. Housestaff also have access to all U of L athletic facilities including the Health Sciences Center Fitness Center, the brand new Student Recreation Center, Bass-Rudd Tennis Center, and Ralph Wright Natatorium, which are located on the main campus.
Many discounts are provided to fellows through the following participating organizations: Actor's Theatre, Derby Dinner Playhouse, Kentucky Center for the Arts, Kentucky Opera, Louisville Ballet, Louisville Orchestra, PNC Bank Broadway Series, and Stage One.
Additional Departmental Support for Radiology Fellows:
CME Travel Funding (Totaling $1,500): The program will support the Neuroradiology fellow to attend one of the following meetings: annual RSNA, ASNR, ASHNR, or ASSR. All university travel policies must be followed.
One lab coat and personalized jacket are provided to each incoming fellow.
Fellows who present at an approved national conference may be eligible to have a portion of the travel costs covered by the department.  Fellows presenting will be given additional days off to attend the conference.
Fellows are entitled to four weeks of vacation during the academic year. The Neuroradiology Fellowship observes the following holidays: New Year's Day, Memorial Day, July 4th, Labor Day, Thanksgiving and Christmas. Holiday time off is not deducted from the Neuroradiology Fellowship fellow's vacation balance.
Fellows are given five additional days off to use for employment interviews.
Fellowship Application Process
The University of Louisville Neuroradiology fellowship program uses ERAS (Electronic Residency Application System) to manage the application process. We follow the timeframe established by the NRMP. We have two appointments available for the 2025-2026 academic year. Interviews for the position will be held between January-March 2024.
The program encourages all eligible candidates to apply regardless of race, color, national origin, or sex.
Please email radres@louisville.edu with any questions regarding the fellowship application and interview process. 
---
*For more information, please email our Fellowship Program Coordinator: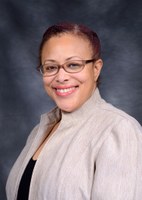 Cheri Bingham, MHA, C-TAGME
Fellowship Coordinator, Department of Radiology
University of Louisville School of Medicine