About The Program
About The Program
About The Program:
Welcome to the University of Louisville Radiology Residency website!

Brittany Schulz, M.D.
Program Director

Tracy Van Meter, M.D.
Associate Program Director

Barbara Barnett
Assistant Resident Program Coordinator
Our residency program is fully accredited by the Accreditation Council for Graduate Medical Education (ACGME) and includes 20 residents from all parts of the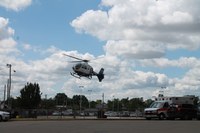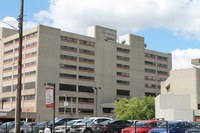 country. We rotate through four Louisville hospitals, including University of Louisville Hospital, Norton Children's Hospital, the Louisville VA Medical Center, and Jewish Hospital. The majority of time is spent at the University of Louisville Hospital which is a Level 1 Trauma Center and serves as the academic referral center for approximately 1 million people in Kentucky and Southern Indiana.
Areas of rotation include angiography/interventional, neuroradiology, body imaging, ultrasound, nuclear medicine, GI/GU, chest, cardiac, musculoskeletal, pediatrics, mammography, OB ultrasound, and emergency radiology.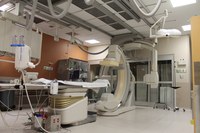 We are a close-knit group even though we have vastly different backgrounds. The relationships between the staff, residents, and faculty is very congenial. Residents are entrusted with responsibilities appropriate to their level of training. By your senior year, you will have a great deal of independence, and will be functioning at the level of a fellow.
You will also have abundant opportunities for research, teaching/mentoring of medical students, and attending national/international conferences.
Educational Experience:
Our rotations are divided into thirteen 4-week blocks. The first year begins an assimilation of general radiologic knowledge, while the fourth year allows time for a senior selective in a resident's area of interest. Below is a sample of what a resident interested in Interventional Radiology might expect for each of their four years here.
| | | | | | | | | | | | | | |
| --- | --- | --- | --- | --- | --- | --- | --- | --- | --- | --- | --- | --- | --- |
| R1 | NEURO | ER | GI | CHEST | MSK | BODY | ER | GI | NUCS | NEURO | MSK | ER | BODY |
| R2 | VASC | VASC | MSK | GI | NEURO | US | CARDS | CHEST | GI | NEURO | BODY | US | BODY |
| R3 | BODY | OB | BODY | AIRP | MAMMO | MSK | CHEST | PEDS | MAMMO | MSK | NUCS | NEURO | PEDS |
| R4 | CARDS | US | MSK | NUCS | PEDS | VASC | NEURO | NEURO | NEURO | MAMMO | VASC | VASC | VASC |
Didactic lectures are given daily at noon and occasionally 7 am. Journal club is monthly
with bi-weekly case conferences. We have a lecture series dedicated to new R1 (PGY-2) residents each July to help them quickly transition from internship and acclimate to the radiology world. In addition, there is a separate physics course targeted at R3 (PGY-4) residents preparing for the Core exam taught by our own exceptional medical physicist, Professor Chin Ng.
The Graduate Medical Education Office at the University of Louisville also provides the following workshops to residents: Residents as Teachers, Residents and Scholarly Activity, and The Business Side of Medicine. Many residents have found these to be an invaluable tool as they progress through their program.
Research:
Many prospects for research are available at the University of Louisville, and residents are encouraged to take part in these opportunities. If a project leads to presentation at a national meeting, the Department will offset the cost in accordance with University guidelines.
ESIR Designation:
The University of Louisville has been approved to offer the ESIR track, and we are currently applying for the IR Independent Fellowship as well.
Stipends & Cost of Living in Louisville:
Louisville is a very affordable city, with a cost of living 5.9% below the national average. With a median home price of $138,900, many residents choose to purchase a home or condo during their time here. Below are the stipend rates for the 2017-2018 academic year:
| | | |
| --- | --- | --- |
|   | Annual | Monthly |
| PGY 2 | 55,785 | 4,648.75 |
| PGY 3 | 57,340 | 4,778.33 |
| PGY 4 | 58,927 | 4,910.58 |
| PGY 5 | 61,906 | 5,158.83 |
Benefits:
The University of Louisville has a competitive benefits package for residents, including the following insurance plans: Health, malpractice, disability, life, and accident. Additionally, the Ophthalmology Clinic offers a discount on eye examinations and the Dental School offers a complete dental program.
Each resident receives $500 per year continuing medical education allowance which can be used for medical books (discount available through UofL's bookstore), registration fees, attendance at professional society meetings, etc. Unused funds may be carried forward from year to year, and you may use your 4th year funds during your 3rd year. The Department also pays for registration fees for core exam review courses and provides additional monies to cover travel expenses. One lab coat and personalized jacket are provided to each incoming resident, and a tablet or equivalent is required. An additional $400 will be placed into your CME account to offset the expense.
You will be entitled to four weeks of vacation per year as well as time off to attend core exam review courses such as Duke Review, Huda Physics Review, and AIRP. You may also be entitled to time off to attend conferences. If you present at an approved conference you may be eligible to have a portion of your travel costs covered by the department.
Residents have full access to the University's many fitness facilities free of charge. Family members are also allowed to use facilities for an additional fee.
Many discounts are provided to residents through the following participating organizations: UofL Athletics, Actor's Theatre, Derby Dinner Playhouse, Kentucky Center for the Arts, Kentucky Opera, Louisville Ballet, Louisville Orchestra, PNC Bank Broadway Series, and Stage One.