PM&R Photo Gallery & News
UofL PM&R In the News
Cancer Rehab Specialist Dr. Megan Nelson was featured on the cover the October issue of Today's Women covering "Why There's New Hope in Treating Cancer".
PM&R Division Chief, Dr. Darryl Kaelin spoke to WLKY about the remarkable progress his patient Deputy Bryan Hicks has made while working with Frazier Rehab on his recovery.
WDRB featured UofL Health Frazier mother and daughter patients Amy and Ava Jones who are recovering under Dr. Darryl Kaelin's care after their family was tragically stuck by a car in downtown Louisville while visiting from Kansas.
Dr. Camillo Castillo sat down with WDRB, Spectrum 1 News, WLKY, and his patient Britt O'Brien in July to discuss the risk of spinal cord injury associated with diving into pools and shallow water.
Faculty member and physiatrist, Dr. Sarah Wagers spoke to WHAS in April to explain how to recognize traumatic brain injury and when to seek medical attention for injury.
Our PM&R Division Chief, Dr. Darryl Kaelin, was featured alongside his patient Lewis Ferguson for Brain Injury Awareness Month by WLKY and WAVE3.
Our transdisciplinary team of Dr. Camilo Castillo, Heather Connor, and the Frazier Rehabilitation staff were featured in a story by WAVE on the importance of physical and mental rehabilitation for survivors of gun violence, especially those which become spinal cord injury patients.
Cancer Rehabilitation Physiatrist, Dr. Megan Nelson, works with a multidisciplinary team at UofL Health Frazier Rehabilitation and was interviewed in July 2021 with her patient regarding the huge improvements to quality of life experienced due to Dr. Nelson's rehab approach. View the story from WLKY here.
Dr. Camilo Castillo was interviewed regarding the miraculous ongoing recovery of his patient Chris Jackson. Spectrum News and WLKY both featured the story in July 2020.
Congrats to Dr. Matthew Adamkin on being named an Insider Louisville 2019 Commitment to Compassion Award Honoree!
Dr. Catherine Schuster joined the staff at the children's hospital on Christmas Day 2018 for the annual visit by Louisville native - Jennifer Lawrence.
Presentations & Publications:
PM&R Photo Gallery
Above: Director of Operations Ellyce Patton, Co-Chief Resident Brooke Madson, and Robbie Veriker PGY3 take a photo celebrating winning their intramural volleyball match (May 2022).
Above: Dr. Lindsay Graves provides a spinal injection training for resident didactics (March 2022).

Above: PM&R residents and their families gather for a Fourth of July party (2021).
Above: Dr. Schuster and other staff join in for a picture with Louisville native, Jennifer Lawrence on Christmas Day 2018 at the children's hospital.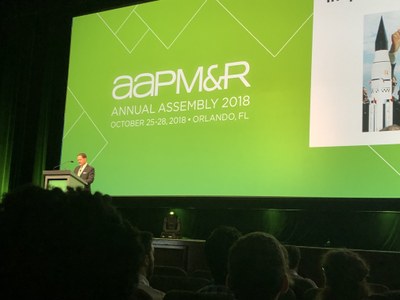 Above: Darryl Kaelin, MD, division chief of PM&R, during his presidential address at the 2018 AAPM&R in Orlando.
At this conference, six UofL faculty gave lectures on numerous adult and pediatric rehab topics, and our residents presented four posters, gave two oral presentations, and won the resident quiz bowl!