How to Apply to PM&R
Message from our Resident Chief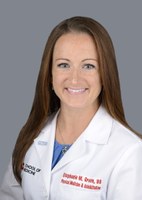 Hello prospective applicants! Congratulations on getting to this step in your healthcare journey — applying to residency. We appreciate your interest in the University of Louisville PM&R Program!
Four years ago, I was sitting right where you are—searching for the next step on the road to becoming a doctor. The University of Louisville PM&R Program became my home!
Louisville's PM&R program has continued to grow since I applied just four years ago. We have gained new residency positions, growing to four residents per year. We have grown our faculty to include a new chair and program director. We are looking to add a specific PM&R physician to our already well-established Pain program. We even are expanding our clinical space with a brand-new outpatient clinic.
UofL's program is unique and tucked away in a fun, vibrant town. We have state-of-the-art facilities, all within close proximity and easy driving distance, in a small, close knit community. These include academic settings such as University of Louisville Hospital, Frazier Rehab and Jewish Hospital, Norton Children's, Brown Cancer Center, and community settings at Baptist Health and the Robley Rex VA medical system.
We have engaged, caring, and skilled attending physicians who have a defined interest in our education both clinically and academically. Our education is comprehensive and includes:
Weekly didactics with renowned physicians not only from inside UofL, but also from other hospitals in Kentucky, US and Latin America.
Musculoskeletal curriculum with comprehensive lectures, ultrasound workshops, and invitations to annual ultrasound courses at nearby institutions
Access to fresh-tissue lab specimens to hone skills of anatomy, ultrasound and injections
Business of medicine lectures to better comprehend private practice, finances, overhead costs, billing, and coding
Our education is enhanced with clinical skills during:
Inpatient rehabilitation rotations with dedicated services and fellowship-trained faculty, including spinal cord injury, brain injury, stroke, medically complex, cancer, pediatric rehabilitation, and community-hospital based
Weekly resident continuity care clinic
Home call which not only helps provide the balance between work and personal life, but also trains residents to make appropriate decisions based on telephone and EMR assessments
We get to experience the full breadth of PM&R. No matter what you are interested in, we have the education, resources, and facilities to bring you the needed exposure and experience:
Do your hands crave procedures? No problem. Starting on Day 1 as a PGY2, we have residents involved with trigger points, baclofen pumps, chemodenervation, joint injections, and much more.
Do you enjoy pediatrics? Perfect! Our current program director is a fellowship-trained Pediatric rehab physician. We have an inpatient children's unit on the 8th floor of Frazier Rehab, and Norton's Children's hospital is next door for acute care consults. In addition, we provide medical care at the Kid's Center and Home of the Innocents.
Are you interested in electives such as occupational health, pediatric orthopedics, skilled nursing facility care, or radiology? You have plenty of elective time at UofL!
We have exciting opportunities for involvement such as:
Program Advancement and Improvement committee – monthly or bimonthly meetings with the Program Director, coordinator, and all residents to work through any resident concerns and develop action plans to create solutions
Cutting-edge research teams, including with the Kentucky Spinal Cord Injury Research Center (KSCIRC) and Christopher Reeve Foundation
Volunteering with National wheelchair games, Special Olympics MedFest, Sarcoma Walk for a Cure, Golf scrambles, and IronMan races
We have a cohesive unit of residents, spouses, children (and pets!) that enjoy time both in the hospital and outside the hospital. We have numerous wellness events such as annual resident retreat, multi-season intramural sports, happy hours, and potluck dinners for Thanksgiving and Christmas.
So why did I choose Louisville? It wasn't just one thing. It was a compilation of everything previously mentioned. Louisville had small hands-on instruction, wide diverse patient population, supportive and involved faculty and staff, beautiful facilities, a small town with a young city vibe, friendly residents that created a strong team, and a community that made me feel like home wasn't 300 miles away. Plus, I got to attend my first Kentucky Derby and embrace the big hat! If you haven't been to Louisville yet, please come and check it out!
I truly believe that our program will enhance your education and provide you the skills you need to be a tremendous Physiatrist. I hope our program speaks to you and fulfills your desires. Please feel free to contact myself or the program coordinator for more questions about the program, application or interview process, or life in Louisville.
Dr. Stephanie M. Green, DO
UofL PM&R Resident, Chief 2020-2021
Apply Now!
Each September we participate in the ERAS application process. Applications are reviewed and select candidates will be offered to schedule interviews through the fall and winter. Please check their website for timelines and information on the application process.
The University of Louisville PM&R Residency program is an advanced program, meaning our residents start as PGY2. If applicants are invited to interview and would also like to apply for a preliminary year with Internal Medicine at the University of Louisville they can do so here.
We suggest this helpful resource for writing a personal statement.
For information please contact:
Patti J. Hayden, C-TAGME
PM&R Residency Coordinator
Email: patti.hayden@louisville.edu