Physical Medicine & Rehabilitation (PM&R)
Division of Physical Medicine & Rehabilitation
Restoring Bodies. Removing Barriers. Rebuilding Lives.
Mission
To provide world-class quality of care to our patients suffering life-altering illness and injury.  To restore the function of our patients with hope and dignity and reintegrate them into society by providing an exceptional experience in clinical care, research, and education using evidence-based medicine, professionalism and accountability. 
From the Chief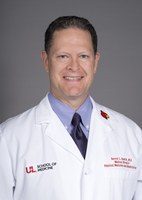 "It's happening here!" This motto for the University of Louisville is particularly true of the Division of PM&R. We have undergone a tremendous amount of growth in the recent past. Our faculty has expanded and includes renowned specialists in SCI, TBI, Stroke, Cancer Rehab, Neuromuscular Rehab, Electrodiagnostic Medicine, and Pediatric Rehab to name a few. Our residency program continues to train among the best and most successful residents in the U.S. proven by both our pass rate on the Board Certification Exam as well as acceptance into prestigious fellowships. We practice and train in one of the most state of the art facilities, the Frazier Rehab and Neuroscience Institute. Everything from great clinical care to cutting edge research is available in this world-class academic environment. It's all happening here in Louisville! I welcome you to come see what we are all about.
Darryl Kaelin, MD
Professor and Chief, Division of PM&R