Patient Care
The University of Louisville Division of Endocrinology, Metabolism and Diabetes is dedicated to advancing the care of patients with endocrine disorders and diabetes in the greater Louisville region.
---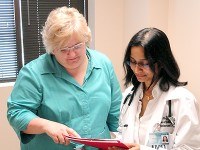 Endocrine diseases include those of the pituitary, thyroid, parathyroid, adrenal, gonads (male and female sex glands), as well as diabetes, hypoglycemia. dyslipidemia (high cholesterol) and metabolic bone disease including osteoporosis.
To make an appointment with a UofL Endocrinologist call 502-588-4600.
---
General Endocrinology; Diabetes; Nutrition Care
Diabetes and Related Disorders; Thyroid Diseases; Osteoporosis and Calcium Disorders; General Endocrinology
Diabetes Mellitus; Obesity; Osteoporosis; General Endocrinology; Provider Recognition for Quality Diabetes Care / Provider Recognition Program, American Diabetes Association
Diabetes and Related Disorders; General Endocrinology
Diabetes and Related Disorders; General Endocrinology
Beth Ackerman, RD, CDE
Liz Gleixner, APRN
Ketia Zuckschwerdt, BSN, RN