Sathya S. Krishnasamy, M.D.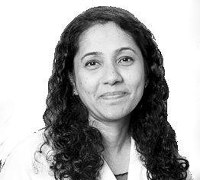 UofL Physicians Outpatient Center
401 East Chestnut Street, Ste. 310
Louisville, KY 40202
502-588-4600 - Patient Appointments
502-852-5237 - Academic Office
---
Clinical Expertise
General Endocrinology; Diabetes and Related Disorders; Pituitary, Thyroid and Adrenal Disorders; Cystic Fibrosis Related Diabetes; Osteoporosis and Calcium Disorders; Obesity Medical Education; Patient Safety and Quality Improvement
---
Board Certifications
American Board of Internal Medicine -
Endocrinology, Diabetes and Metabolism
Education and Training
Medical School: Kilpauk Medical College
Residency: Illinois Masonic Medical Center, Rush University
Fellowship: University of Louisville
---
Get To Know Dr. Krishnasamy
---
Featured Publications
Krishnasamy S, Sheikh D, Ali T, Clemons V, Furmanek S, Mohamed Fawzy Abdelhaleem AA, Salunkhe V, Akbar UA, Chlebowy D, Ramirez J, Arnold F. Impact of hyperglycemia on cardiovascular events and clinical outcomes in patients hospitalized with COVID-19 pneumonia. Endocr Pract. 2022 Jun 4:S1530-891X(22)00521-3. doi: 10.1016/j.eprac.2022.05.011. Epub ahead of print. PMID: 35671878; PMCID: PMC9166248.
McGraw KE, Riggs DW, Rai S, Navas-Acien A, Xie Z, Lorkiewicz P, Lynch J, Zafar N, Krishnasamy S, Taylor KC, Conklin DJ, DeFilippis AP, Srivastava S, Bhatnagar A. Exposure to volatile organic compounds - acrolein, 1,3-butadiene, and crotonaldehyde - is associated with vascular dysfunction. Environ Res. 2021 May;196:110903. doi: 10.1016/j.envres.2021.110903. Epub 2021 Feb 24. PMID: 33636185; PMCID: PMC8119348.
Chlebowy DO, Coty MB, Lauf A, Krishnasamy S, Myers J, Jaggers J. Mobile App Use in Adults with Comorbid Type 2 Diabetes and Depression. West J Nurs Res. 2021 Jan 29:193945920988791. doi: 10.1177/0193945920988791. Epub ahead of print. PMID: 33514297.
Yeager R, Riggs DW, DeJarnett N, Srivastava S, Lorkiewicz P, Xie Z, Krivokhizhina T, Keith RJ, Srivastava S, Browning MHEM, Zafar N, Krishnasamy S, DeFilippis A, Turner J, Rai SN, Bhatnagar A. Association between residential greenness and exposure to volatile organic compounds. Sci Total Environ. 2020 Mar 10;707:135435. doi: 10.1016/j.scitotenv.2019.135435. Epub 2019 Nov 23. PMID: 31865083; PMCID: PMC7294698.
Riggs DW, Zafar N, Krishnasamy S, Yeager R, Rai SN, Bhatnagar A, O'Toole TE. Exposure to airborne fine particulate matter is associated with impaired endothelial function and biomarkers of oxidative stress and inflammation. Environ Res. 2020 Jan;180:108890. doi: 10.1016/j.envres.2019.108890. Epub 2019 Nov 5. PMID: 31718786; PMCID: PMC6899204.
Yeager R, Riggs DW, DeJarnett N, Tollerud DJ, Wilson J, Conklin DJ, O'Toole TE, McCracken J, Lorkiewicz P, Xie Z, Zafar N, Krishnasamy SS, Srivastava S, Finch J, Keith RJ, DeFilippis A, Rai SN, Liu G, Bhatnagar A. Association Between Residential Greenness and Cardiovascular Disease Risk. J Am Heart Assoc. 2018 Dec 18;7(24):e009117. doi: 10.1161/JAHA.118.009117. PMID: 30561265; PMCID: PMC6405613.
Zafar N, Krishnasamy SS, Shah J, Rai SN, Riggs DW, Bhatnagar A, O'Toole TE. Circulating angiogenic stem cells in type 2 diabetes are associated with glycemic control and endothelial dysfunction. PLoS One. 2018 Oct 15;13(10):e0205851. doi: 10.1371/journal.pone.0205851. PMID: 30321232; PMCID: PMC6188890.
Krishnasamy S, Abell TL. Diabetic Gastroparesis: Principles and Current Trends in Management. Diabetes Ther. 2018 Jul;9(Suppl 1):1-42. doi: 10.1007/s13300-018-0454-9. Epub 2018 Jun 22. PMID: 29934758; PMCID: PMC6028327.
DeJarnett N, Yeager R, Conklin DJ, Lee J, O'Toole TE, McCracken J, Abplanalp W, Srivastava S, Riggs DW, Hamzeh I, Wagner S, Chugh A, DeFilippis A, Ciszewski T, Wyatt B, Becher C, Higdon D, Ramos KS, Tollerud DJ, Myers JA, Rai SN, Shah J, Zafar N, Krishnasamy SS, Prabhu SD, Bhatnagar A. Residential Proximity to Major Roadways Is Associated With Increased Levels of AC133+ Circulating Angiogenic Cells. Arterioscler Thromb Vasc Biol. 2015 Nov;35(11):2468-77. doi: 10.1161/ATVBAHA.115.305724. Epub 2015 Aug 20. PMID: 26293462; PMCID: PMC4862408.
Cooper J, Stetson B, Bonner J, Spille S, Krishnasamy S, Mokshagundam SP. Self-Reported Physical Activity in Medically Underserved Adults With Type 2 Diabetes in Clinical and Community Settings. J Phys Act Health. 2015 Jul;12(7):968-75. doi: 10.1123/jpah.2013-0475. Epub 2014 Aug 22. PMID: 25154022.