Sathya S. Krishnasamy, M.D.
Sathya S. Krishnasamy, M.D.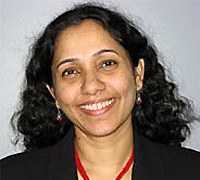 Associate Professor of Medicine
UofL Physicians Outpatient Center
401 East Chestnut Street, Ste. 310
Louisville, KY 40202
502-852-5237 - Academic Office
502-588-4600 - Patient Appointments
---
Clinical Expertise
Diabetes and Related Disorders; Thyroid Diseases; Osteoporosis and Calcium Disorders; General Endocrinology
Education and Training
Medical School: Kilpauk Medical College, India
Residency: Illinois Masonic Medical Center, Rush University
Fellowship: University of Louisville
Publications
DeJarnett N, Yeager R, Conklin DJ, Lee J, O'Toole TE, McCracken J, Abplanalp W, Srivastava S, Riggs DW, Hamzeh I, Wagner S, Chugh A, DeFilippis A, Ciszewski T, Wyatt B, Becher C, Higdon D, Ramos KS, Tollerud DJ, Myers JA, Rai SN, Shah J, Zafar N, Krishnasamy SS, Prabhu SD, Bhatnagar A. Residential Proximity to Major Roadways Is Associated With Increased Levels of AC133+ Circulating Angiogenic Cells. Arterioscler Thromb Vasc Biol. 2015 Nov;35(11):2468-77. doi: 10.1161/ATVBAHA.115.305724. Epub 2015 Aug 20. PubMed PMID: 26293462; PubMed Central PMCID: PMC4862408.
Cooper J, Stetson B, Bonner J, Spille S, Krishnasamy S, Mokshagundam SP. Self-Reported Physical Activity in Medically Underserved Adults With Type 2 Diabetes in Clinical and Community Settings. J Phys Act Health. 2015 Jul;12(7):968-75. doi: 10.1123/jpah.2013-0475. Epub 2014 Aug 22. PubMed PMID: 25154022.
Knight H, Stetson B, Krishnasamy S, Mokshagundam SP. Diet self-management and readiness to change in underserved adults with type 2 diabetes. Prim Care Diabetes. 2015 Jun;9(3):219-25. doi: 10.1016/j.pcd.2014.09.007. Epub 2014 Oct 22. PubMed PMID: 25457433.
Krishnasamy SS, Chang C, Wang C, Chandiramani R, Winters SJ. Sex hormone-binding globulin and the risk for metabolic syndrome in children of South Asian Indian origin. Endocr Pract. 2012 Sep-Oct;18(5):668-75. doi: 10.4158/EP12026.OR. PubMed PMID: 22548950.
Scott DA, Renaud DE, Krishnasamy S, Meriç P, Buduneli N, Cetinkalp S, Liu KZ. Diabetes-related molecular signatures in infrared spectra of human saliva. Diabetol Metab Syndr. 2010 Jul 14;2:48. doi: 10.1186/1758-5996-2-48. PubMed PMID: 20630088; PubMed Central PMCID: PMC2914662.