About Louisville
Louisville has been called "The New Portland" by Lonely Planet, and one of America's most livable cities by the Places Rated Almanac. Louisville is both a comfortable and exciting place to be. The city boasts tons of southern culture with a progressive feel and is known for its eclectic blend of architecture, arts, and food. The city is also the home of legendary boxer Muhammad Ali, the Kentucky Derby, Colonel Sanders and Kentucky Fried Chicken (KFC), Louisville Slugger baseball bats, and three of Kentucky's six Fortune 500 companies.
Louisville Facts
Frequently ranked one of the top places in the US to raise a family
Ranked No. 8 on America's Most Literate Cities list, compiled by the University of Wisconsin in 2003
Founded by George Rogers Clark in 1778
Named for French King Louis XVI
One third of all bourbon comes from Louisville
Neighborhoods
The Highlands neighborhood is highlighted by Bardstown Road, known for its cultural diversity and local trade. The majority of the businesses along Bardstown Road, such as coffee shops, clothing stores and art galleries, are locally owned and operated businesses.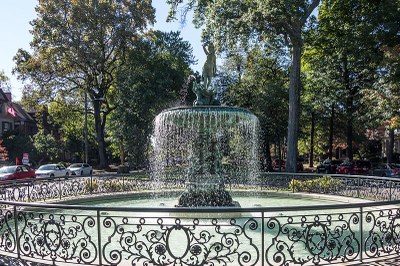 Historic Old Louisville is the city's urban jewel. Boasting the largest contiguous collection of Victorian mansions in the United States, it's the city's largest historic preservation district. The heart of Old Louisville is Central Park, which was designed by Frederick Law Olmsted, Sr.
The East Market District, colloquially known as NuLu (a portmanteau of "New" and "Louisville"), is situated along Market Street. NuLu is a growing, hip district, well known for its galleries showcasing local, regional and national artists, unique specialty stores, antique shops and a growing number of upscale restaurants. While multiple art galleries are located in Louisville, they are especially concentrated in this district. Keeping with the sustainable culture of NuLu, many of its restaurants offer organic and locally sourced ingredients. The district also houses numerous architecture firms, antique stores, advertising and media agencies, a record label, film production group, publishing company, designers and more.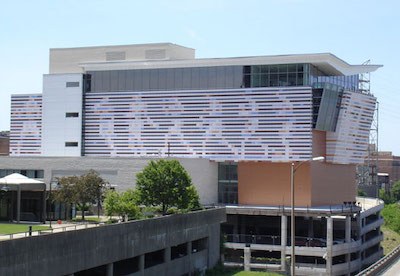 The West Main District downtown features "Museum Row". In this area is the Frazier History Museum, which opened in 2004 as an armaments museum, featuring the only collection of Royal Armouries artifacts outside of the United Kingdom. Nearby is the Kentucky Science Center, which is Kentucky's largest hands-on science center and features interactive exhibits, IMAX films, educational programs and technology networks. The Kentucky Museum of Art and Craft is a nonprofit organization with a mission to support and promote excellence in art, craft, applied arts and design. The Muhammad Ali Center features Louisville native Muhammad Ali's boxing memorabilia.
Artistic Offerings
The Kentucky Center features a variety of plays and concerts, and is home to the Louisville Ballet, Louisville Orchestra, Kentucky Shakespeare Festival, which operates the oldest professional outdoor Shakespeare festival, and the Kentucky Opera, the twelfth oldest opera in the United States. Actors Theatre of Louisville, is in the city's urban cultural district and hosts the Humana Festival of New American Plays each spring. The Louisville Palace is an ornate theatre in downtown Louisville's theatre district. 
The Speed Art Museum opened in 1927 and is the oldest and largest art museum in the state of Kentucky. The museum was renovated in 2016. Located adjacent to the University of Louisville, the museum features over 12,000 pieces of art in its permanent collection and hosts traveling exhibitions. There are multiple other art galleries located in the city, which are especially concentrated in NuLu, immediately to the east of downtown. This row of galleries, plus others in the West Main District, are prominently featured in the monthly First Friday Hop, where a free TARC bus takes art lovers to many downtown and NuLu area independent art galleries on the first Friday of every month.
The month of October features the St. James Court Art Show in Old Louisville. Thousands of artists gather on the streets and in the courtyard to exhibit and sell their wares, and the event is attended by many art collectors and enthusiasts.
Nature and Parks
Boasting more than 125 parks in and around the city and over 13,000 acres of public land, Louisville has some of the best access to green space in the country. Louisville is also home to 17 parks and 15 miles of parkways designed by Frederick Law Olmsted. Known as the "father of landscape architecture," he will forever be associated with such iconic landmarks as New York City's Central Park, the United States Capitol Grounds, and North Carolina's Biltmore Estate. Some consider his crowning achievement to be the Olmsted Parks System in Louisville. It is one of the Derby City's most cherished resources, and has been an integral part of the city's natural, economic, and social life for more than a century.
Entertainment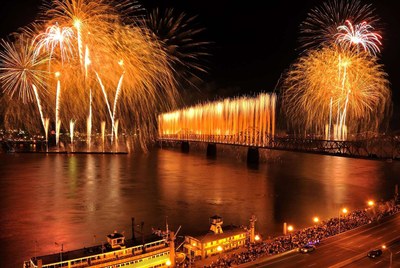 Louisville is home to many annual cultural events, including the Kentucky Derby, held annually during the first Saturday of May.The Derby is preceded by a two-week-long Kentucky Derby Festival, which starts with the annual Thunder Over Louisville, the largest annual fireworks display in North America. The Festival also features the Pegasus Parade, The Great Steamboat Race, Great Balloon Race, and marathon/mini marathon. Esquire magazine has called the Kentucky Derby "the biggest party in the south."
Food & Drink
There are many restaurants that make Louisville one of the most under­rated food cities in America. Foodies will appreciate TV food star (Top Chef, Mind of a Chef) Edward Lee's three installations,  610 Magnolia (Southern-­Korean fusion) and Whiskey Dry, serving whiskey and burgers.
A showcase of Southern food is Jack Fry's, and for awesome international cuisine don't miss Ramsi's Café on the World, both located in the Highlands. Nearby you will find Game, which boasts an array of diverse meats like kangaroo, bison and alpaca for the more adventurous foodie. Frankfort Avenue hosts several local establishments of note, including The Silver Dollar (American), El Mundo (Mexican), Maido (sushi), The Irish Rover (pub fare), and Porcini (Italian), and Vint (coffee, wine and beer).
If you're Downtown or in NuLu, check out Feast BBQ for barbecue with plenty of vegan options, and Garage Bar for pizza and cocktails.
In the Butchertown area, check out Butchertown Market, home to small businesses, including Work the Metal home accents, Cellar Door Chocolates, Moss Hill Bath and Body, and Bourbon Barrel Foods. Head one block over to Butchertown Grocery for a delicious dinner.
Distillery Tours
Until the 1920s, a portion of Main Street was known as "Whiskey Row," with as many as 50 distilleries operating along downtown's main thoroughfare. After a long dry spell, bourbon distilling has recently returned to downtown Louisville. You can sample a wide range of bourbon drinks at any of the 35 restaurants and bars on Louisville's Urban Bourbon Trail. Many of the establishments, which all serve at least 50 brands of bourbon, are located downtown. The Evan Williams Bourbon Experience offers tours of their facilities along Main Street.
Angel's Envy has redeveloped a portion of a 19th century manufacturing building known as the old Vermont American Complex into a $12 million distillery on East Main Street. The new distillery includes a column still, a bottling line, grain handling equipment and barrel storage areas.
If you're looking for something a little different than bourbon, Louisville is also home to Copper & Kings, who are known for their craft brandy and absinthe. Located in Butchertown, the distillery hosts great views of the Ohio River, a restaurant, and a unique outdoor patio area.
And for those looking to view the sights around the state of Kentucky, following the Kentucky Bourbon Trail will lead you to many distilleries just outside of Louisville, Lexington, and in the Central Kentucky area. Some popular distillery stops are Woodford Reserve, Buffalo Trace, and a recent addition, Jeptha Creed. Chauffeured group tours are available through Mint Julep Tours and R&R Limousine Service. Be sure to take in the sights as you tour, as Kentucky is home to thoroughbred racing has some of the most beautiful horse farms you'll find anywhere.
Getting to Louisville
Louisville is a comfortable driving distance to many cities, including:
2 hours to Indianapolis, IN
2 hours to Cincinnati, OH
4 hours to Columbus, OH
3 hours to Nashville, TN
5 hours to Chicago, IL
There are three airports in the region to choose from. Fares can vary dramatically among the airports, so it's possible that one of the more distant airports might offer a fare that would make up for the cost of a rental car or shuttle. Uber and Lyft are easily accessible to get you in and around the city and suburbs.
Louisville Muhammad Ali International Airport (SDF) 
Cincinnati-Northern Kentucky International Airport (CVG) Hebron, KY - 90 minute drive
Blue Grass Airport (LEX) Lexington, KY - 70 minute drive 
Local Resources
Links are provided for informational purposes only and are not endorsements.
Sources: Wikipedia, TripAdvisor, Louisville KY tourism