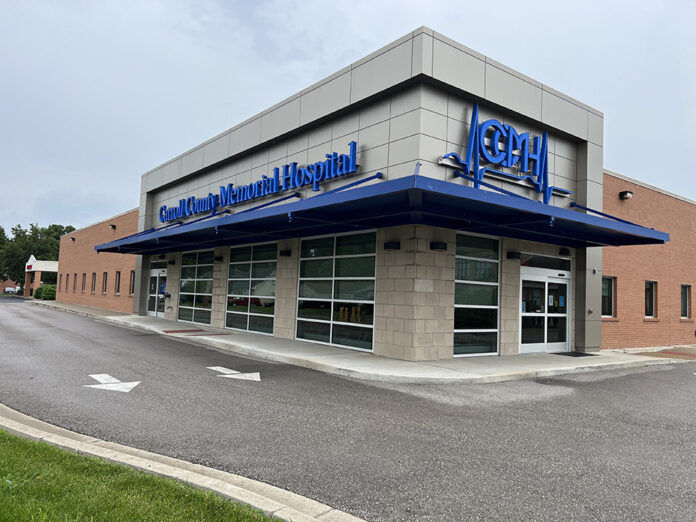 Delivering on a commitment to improve access to care, UofL Health has entered into a partnership agreement with Carroll County Memorial Hospital. The partnership allows more patients, communities and providers to benefit from the specialty expertise of UofL Health's more than 800 academic health providers.
"We are partnering with UofL Health to bring additional resources and specialty expertise into our community," said Kimberly Haverly, Carroll County Memorial Hospital CEO. "For our patients this means more care close to home and a seamless continuum of care for the most complex cases."
CCMH is located in Carrolton, Kentucky, primarily serving the residents of Carroll, Trimble and Gallatin counties with a regional population close to 30,000. The hospital is located within a federally designated Medically Underserved Area.
"Reducing barriers to care and increasing access is part of the foundation for UofL Health. This partnership accomplishes both," said Tom Miller, UofL Health CEO. "The providers and professionals at Carroll County Memorial Hospital have built a strong legacy of health care in the region and we are proud to join the team."
UofL Health Physicians will see patients in CCMH's specialty clinic, located within hospital, establish a routine appointment schedule depending on the need. Cardiology and vascular care were identified as immediate priorities, so appointments for those specialties are already being taken.
"Heart disease remains a top issue in Kentucky, but proactive care and regular exams can dramatically reduce risk and improve overall health," said Dr. Henry Sadlo, a cardiologist with UofL Physicians. "Today's heart patients have a lot more treatment options, I look forward to sharing my expertise with the Carroll County region."
The partnership between UofL Health and Carroll County Memorial Hospital directly addresses a barrier to care identified in CCMH's Community Health Needs Assessment: Lack of access to transportation for health services.
"I am seeing patients in Carroll County so they can receive care close to home," said Amit Dwivedi, MD, a vascular surgeon with UofL Physicians. "My team will work in collaboration with CCMH's family practice providers to enhance early detection and treatments to decreases the risk for vascular events, like aneurysm and strokes."
Additional specialty care is also in the planning for Carroll County including neurology, radiology and utilizing UofL Health's growing telemedicine program to further increase access. Alongside the patient care services UofL Health will also provide support services to CCMH including IT, supply chain and continuing education.
As a partner, Carroll County Memorial Hospital will help more communities have access to Academic health care.