Jazz
 Louisville Jazz Workshop. Held this summer at the UofL School of Music, July 15-23, 2023. 
The University of Louisville School of Music is thrilled to announce the new addition of saxophonist David Clark as the director of the Jazz Studies Program. We invite you to view Professor Clark's impressive CV of accolades as a musician, researcher, community activist and educator. As an alumnus of UofL's acclaimed jazz program, Professor Clark possesses a keen understanding of our legacy, and we look forward to exploring his vision for the jazz program.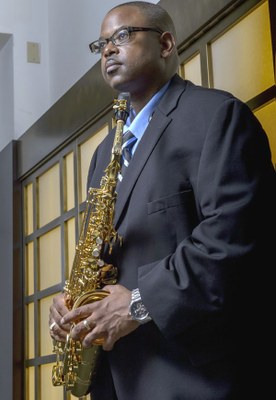 Professor Clark is widely respected and adored within the Louisville and international jazz community. He has a unique way of connecting with both audiences and musicians with an extraordinary soulful and deep musical talent. His unwavering sincerity and joy are evident in his performances in genres such as jazz, blues, gospel and popular idioms. Through his research, he addresses how jazz music can be used to heal and strengthen the community. True to the goals of the School of Music, Professor Clark's holistic approach to education empowers students in every aspect of their lives. We are excited about the wealth of talent and authenticity he will bring to all his endeavors here at the University of Louisville.
In his own words:
"I could not be more humbled and excited to return to my Alma Mater to not only continue the strong jazz tradition that has been established, but to also write a new chapter as we continue to move forward into the 21st Century. I have had no greater experience in my life than playing and teaching jazz at the highest level possible. That pursuit has not only challenged me musically, but has also challenged me holistically to be the best human being that I can possibly be. This 'Jazz Ideal' is what will guide our jazz studies program. Our students will graduate not only as top tier jazz performers and educators but will also understand the call of jazz as a source of healing within the pursuit of excellence, creativity, resilience, and social advocacy. I am looking forward to joining outstanding faculty, staff, and students at the University of Louisville School of Music and serving the greater Louisville community as we answer this call."
---
Coming to School of Music October 5-6: Sara Caswell, jazz violinist. 
Grammy® Nominee Sara Caswell is recognized as one of today's foremost jazz violinists through her lyricism and technical facility. Voted into the DownBeat Magazine Critics and Readers Polls every year since 2013, Sara's artistry and unique sound led internationally-renowned jazz educator David Baker to write: "Sara Caswell is a brilliant world-class violinist...one of the very best of the present generation of emerging young jazz stars."
Sara has released three highly-acclaimed albums under her own name, the most recent of which is The Way to You (2023, Anzic Records). She has been part of groups led by esperanza spalding (Chamber Music Society), Linda Oh (Aventurine) , a n d David Krakauer (The Big Picture), and has performed and/or recorded with artists and ensembles including the WDR Big Band, Brad Mehldau, Brian Blade, John Patitucci, Donny McCaslin, Fred Hersch, Henry Threadgill, Dave Stryker, Helen Sung, Miho Hazama, Christian Sands, Regina Carter, Kishi Bashi, and Bruce Springsteen. She is also a member of Joseph Brent's 9 Horses trio, Chuck Owen's The Jazz Surge, and the Caswell Sisters Quintet (a group she co-leads with her sister, vocalist Rachel Caswell). Sara has performed at Carnegie Hall, Village Vanguard, Birdland, Jazz at Lincoln Center, SFJazz, Disney Hall, Barbican, and Blue Note (NYC and Tokyo), and at jazz festivals including Newport, Montreal, Montreux, North Sea, Banlieues Bleues, and Saratoga Springs among others.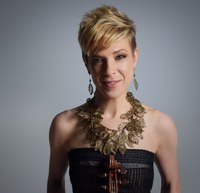 Currently on faculty at the Berklee College of Music, Manhattan School of Music, The New School, and New York University, Sara's formidable teaching experience also includes the Mark O'Connor String Camps, the Jamey Aebersold Summer Jazz Workshops, the Indiana University String Academy, and a private studio. She gives jazz string improvisation workshops and masterclasses nationwide and is involved with Jazz Education Network and American String Teachers Association.
Raised in a musical family, Sara began playing violin at age 5 and studied with two legendary giants: Josef Gingold (classical) and David Baker (jazz). She made her orchestral debut at 15, earned degrees from Indiana University and Manhattan School of Music, and amassed over 100 awards in the jazz and classical competition worlds. Jazz educator, author, and critic Dr. Herb Wong said: "A gifted starbright talent of the first magnitude, Sara is a top tier member of the young generation of major voices."
---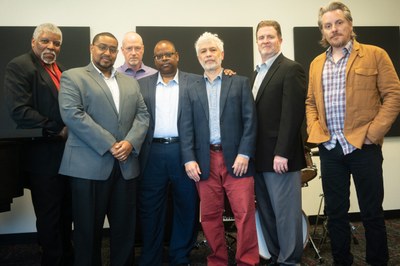 Established in 1985 The UofL Jazz Studies Program is recognized throughout the nation and world for its commitment to quality and innovative programs. Formerly know as the Jamey Aebersold Jazz Studies Program from 2000 to 2022. Additionally, the School of Music hosted the Aebersold Summer Jazz Workshops from1977 to 2019. 
Jazz degrees include a Bachelor of Music with an Emphasis in Jazz Performance. This degree will offer students a complete undergraduate jazz experience.  Our newest degree is a Bachelor of Music Education with a Jazz Track.  This one of a kind, highly innovative degree provides a comprehensive jazz experience while preparing the individual to teach in the public schools. Our Bachelor of Music with an Emphasis in Music Therapy with an optional Concentration in Jazz is an excellent experience for any music therapy student who is interested in jazz.
We also have a Bachelor of Arts with an Emphasis in Jazz Studies. This degree is designed for the student interested in a diverse educational experience while developing their jazz skills Master's degrees include a Master of Music with a Concentration in Jazz Performance and Master of Music with a Concentration in Jazz Composition and Arranging. Each gives the student a focused jazz experience in the Master's setting. Scholarship assistance is available for graduate and undergraduate students wishing to focus their study in jazz.
The program features extended residencies by leading jazz artists, as well as a continuation of the exciting annual Jazz Fest every February, which features a multi-day celebration of jazz with concerts, workshops, and clinics. Founded in 1992 as Jazz Week, Jazz Fest is an event that regularly features some of the biggest names in the jazz world.  Jazz masters who have performed and presented master classes include Dave Brubeck, Winton Marsalis, Elvin Jones, McCoy Tyner, Marian McPartland, Paquito D'Rivera, Michael Brecker, Christian McBride, Clark Terry, The Heath Brothers, Ahmad Jamal, John Hendricks, Toot Thielemans, Lou Donaldson, Slide Hampton and many more.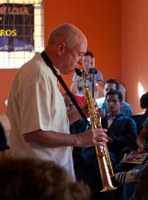 The UofL Jazz Studies Program is active in international exchanges with leading institutions from around the world. Student and faculty groups, from a duo to more than forty, have toured and performed in numerous foreign countries:  Argentina and Australia; Brazil and Belize; Ecuador, Estonia and England; Colombia and China; Peru, Finland, Republic of Georgia, Russia are just a few.
Recognized as leading educator/performers, the prestigious faculty frequently presents clinics, master classes and performances at schools, universities, civic organizations and conventions throughout the United States. Please feel free to explore our web site for additional information on our students and faculty, classes and ensembles, degrees and residencies, national and international outreach.
 Follow us on social media 
Facebook
YouTube