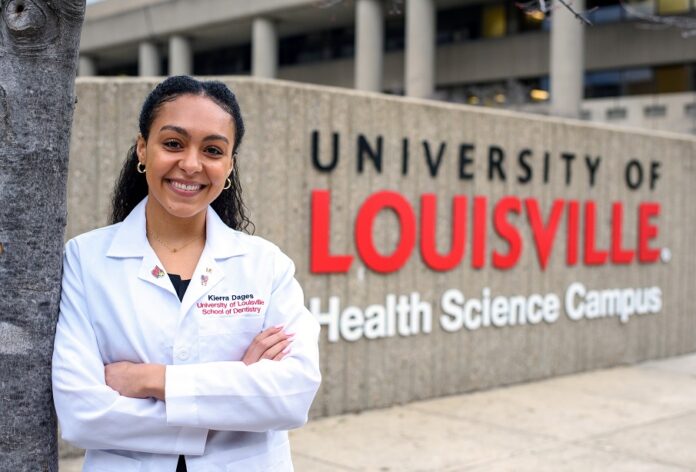 University of Louisville second-year dental student Kierra Dages is one of 11 dental students nationwide recognized for dedication to community service.
The new award recognizes dental students who demonstrate that part of becoming a dentist is serving communities and helping those in need. One winner was named from each of ASDA's 11 districts.
ASDA is a national student-run organization that advocates for dental students.
Dages is a second-year DMD student from Hebron, Kentucky. She completed a bachelor's degree in public health at UofL in 2019.
"I've always had the approach of looking at the bigger picture and systemic health," Dages said, adding she believes that she and other dental professionals should "always remind ourselves … that we're not just working on the mouth and we're not just focusing on oral health, but on overall health."
As Dages progresses through dental school, she will have the opportunity to serve patients at the School of Dentistry's on-site clinics and externship sites around the state. 
Dages saiid she looks forward to serving a diverse group of patients. "It really prepares you to be able to adapt and think critically and be able to work around issues that you're going to see out in everyday practice," she said.
Dages has also connected with the community through volunteering with charitable organizations. She has been active in Grow502, founded by UofL School of Medicine student Onu Udoh in 2020 to reduce health disparities in underserved Louisville communities.
At one Grow502 event, "we were able to provide dental care, wound care, vaccinations, hot meals, clothing and showers to the unhoused population in Louisville," she said.