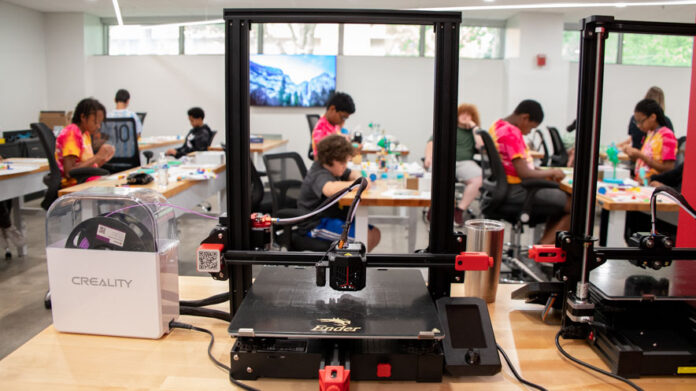 A new space dedicated to hosting K-12 students for summer camps, class field trips and after-school activities is now open at the University of Louisville. The STEM+ Hub, designed and operated by the J.B. Speed School of Engineering, is located on UofL's Belknap Campus in the Miller Information Technology Center.
The STEM+ Hub is equipped to facilitate a variety of K-12 student enrichment opportunities, as well as activities such as hackathons, junk bot racing, rocket building, VEX and First Robotics competitions, mentoring, learner workshops and teacher workshops. The suite consists of a large makerspace with 12 3D printers, instructional space, a conference room and two offices.
"This space, which already has hosted summer camps and after-school enrichment activities for hundreds of local students, is dedicated to welcoming those who aspire to be the next generation of engineers, computer scientists and technicians. It also provides UofL students and prospective students with access to advising, makerspace technology and other resources to help them pursue their dreams," said UofL President Kim Schatzel.
This engagement is critical to increasing the pipeline of students interested in working in STEM and health care disciplines in engineering and other academic areas and will help recruit undergraduate students to the STEM+H degree programs at UofL.
"The STEM+ Hub is something we are very excited about at Speed School. Though it is an outgrowth of our outreach activities, we want the UofL community to know that this is not a "Speed School space" but one that is available to the entire UofL community," said Emmanuel Collins, dean of engineering. "It is our experience that the type of activities that STEM+ Hub hosts can have a lasting impact on the young people who participate. We look forward to seeing and hearing about the life transformations this space helps facilitate."
Through outreach initiatives such as those taking place in the STEM+ Hub, Speed School exposes and engages students in various areas of engineering careers and provides them with a boost in their preparation for these STEM careers.
To reserve the STEM+ Hub, visit the website.