Why We Mask: Vaccines and Variants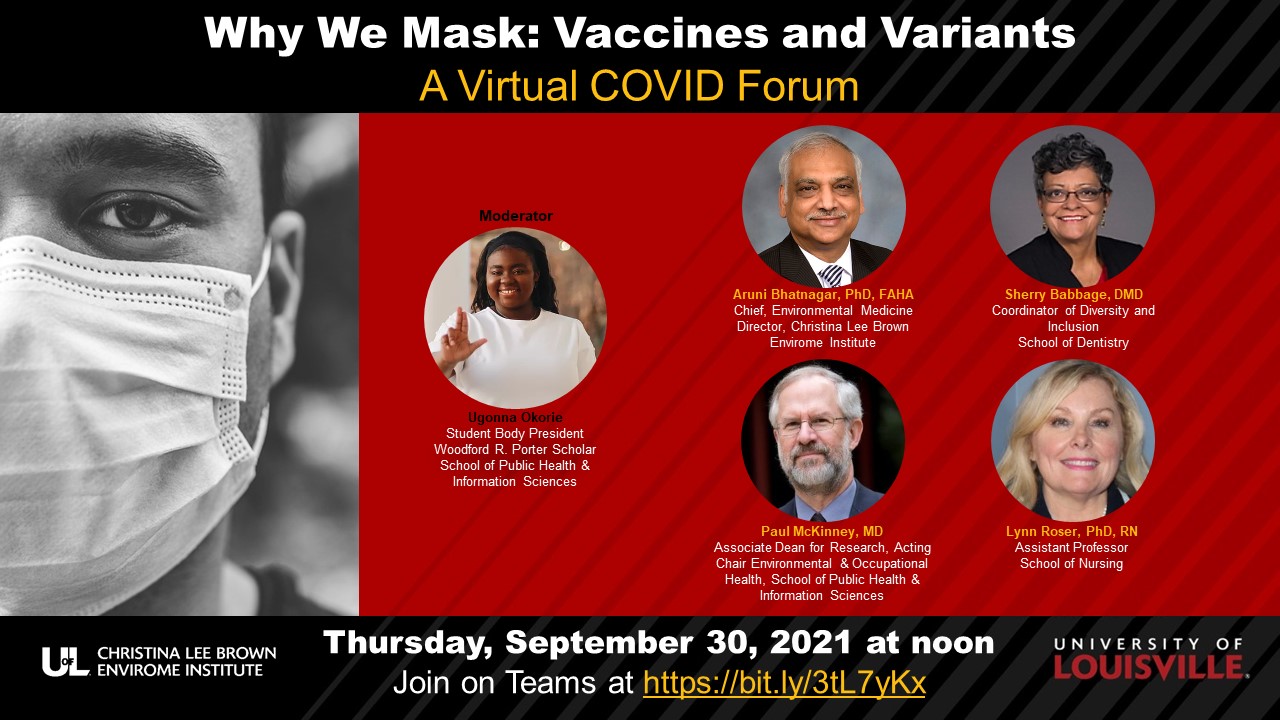 The Envirome Institute welcomes all UofL students, faculty, and staff, to a university-wide virtual COVID Forum called Why We Mask: Vaccines and Variants. The event, hosted on Microsoft Teams, will include leaders and trusted voices from across UofL's Health Sciences Campus. In order to gain a comprehensive perspective, we have invited representatives from the schools of Medicine, Dentistry, Public Health, and Nursing. The hour-long panel will be Q&A style with the moderator posing questions to four panelists for about 50 minutes followed by 10 minutes of audience questions.
As the Fall 2021 semester brought students, staff, and faculty back to UofL campus, researchers at the Envirome Institute wanted to make sure that all campus community members were equipped with the knowledge and skills to keep themselves and our community safe during the ongoing COVID pandemic. Seeing concerning levels of vaccine hesitancy among healthcare professionals and students made the need for this type of forum even more pressing. In this forum, we will learn about each panelist's specific expertise and how their work was impacted by COVID-19. We will then hear about why healthy, young individuals should get vaccinated against COVID and debunk a few often-heard myths.
Join The Forum
Click here to join the Microsoft Teams Webinar on Thursday, Sept. 30 at noon.

Let others know you're attending, share the Why We Mask: Vaccines and Variants Facebook Event!
Panelists
Moderator: Ugonna Okorie, Student Body President
Presenters: Aruni Bhatnagar, PhD, FAHA, Department of Medicine, Sherry Babbage, DMD, School of Dentistry, Paul McKinney, MD, School of Public Health and Information Sciences, and Lynn Roser, PhD, RN, CIC, FAPIC School of Nursing