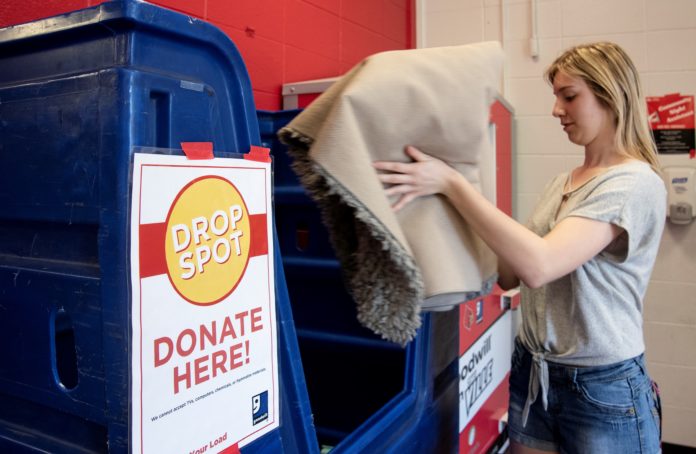 As finals get underway and students begin to move out of their dormitories, did you ever wonder what happens to all the things that are no longer needed or wanted?
A partnership that the University of Louisville began with Goodwill Industries of Kentucky in 2016 has diverted thousands of pounds of items such as clothing, shoes, linens, decor, school supplies and non-perishable food from landfills. As part of the partnership, students in nine UofL dormitories are encouraged to put their unwanted end-of-year items in year-end donation bins rather than the trash. Food items are also donated to the Cardinal Cupboard.
From 2016 to 2018, UofL students have donated more than 18,000 pounds of items during the end-of-year "Lighten Your Load! Move-Out Waste Reduction" campaign. This year's campaign ends May 1.
"The successful partnership provides a surge in spring donations for Goodwill Industries of Kentucky and, in turn, helps the university toward its goal of becoming a zero-waste institution," said Justin Mog, assistant to the provost for sustainability initiatives.
Goodwill Industries of Kentucky is a 501(c)(3) nonprofit that helps with job training for those with disabilities and other disadvantages. According to its website, Goodwill diverts about 50 million pounds of items from Kentucky landfills every year.
"We are thrilled to partner with UofL during spring move outs. This initiative diverts thousands of pounds of items from landfills and provides donations to Goodwill that stay in local communities," said Lennea Wooten, director of Retail for Goodwill industries of Kentucky. "These donations not only reduce waste but are also vital in Goodwill's effort to provide critical employment services for people with disabilities or other challenges to finding and keeping a job."