Nursing faculty members inducted as AANP fellows
Professor and coordinator of t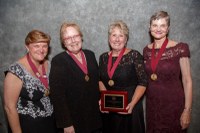 he Women's Health-Family Nurse Practitioner Dual Major Program, Marianne Hutti and Whitney Nash, associate dean of practice and service and coordinator of the Adult-Geriatric Nurse Practitioner Program, are the first School of Nursing faculty members inducted as fellows of the American Association of Nurse Practitioners. They were recently inducted during the association's annual conference in Philadelphia.
Hutti, Ph.D., W.H.N.P.-B.C., who maintains an independent practice in women's health, is  internationally known for her research on perinatal loss and has received national awards as a nursing educator and researcher. She has created the Perinatal Grief Intensity Scale, developed for clinical use to predict intense grief and identify need for professional follow-up after perinatal loss.  Her most recent study included the development of a free "app" of the scale that is available to health care providers through the Google store.  
Nash, Ph.D., A.N.P.-B.C., coordinates international programming for the School of Nursing with opportunities in six countries. She also founded the Kentucky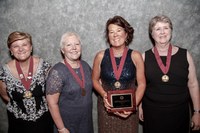 Racing Health Services Center in 2005.  This free clinic provides nurse practitioner-led health care to the under-served workers in the horseracing industry. The National Organization of Nurse Practitioner Faculties and the American Academy of Nursing have recognized this Center for its service. Her research focuses on inter-professional education and clinical practice particularly in low resource communities.
Nash and Hutti were selected to join a group of leaders whose scholarly and forward thinking contributions have led to meaningful improvements in healthcare and the Nurse Practitioner role. There are about 240,000 APRN's in the United States and only 690 have become fellows.
Also at the conference, recently-retired Professor Debbie Thomas received the 2017 AANP Nurse Practitioner State Award for Excellence from Kentucky.