Long-time nursing faculty member named director of MEPN program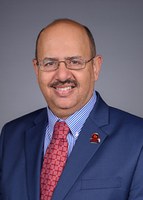 Congratulations to Dr. Said Abusalem who has accepted the position of Director of the Master's Entry into Professional Nursing Program. The MEPN program is an innovative accelerated nursing program wherein six semesters the student earns a bachelor's and a master's degree in nursing. Abusalem has been teaching in the MEPN Clinical Nurse Leader CNL Program since its inception in 2015.
Abusalem brings numerous innovative ideas related to marketing the program, and renaming the program to increase visibility for growth. His experience with curriculum design will help to facilitate efforts for continuous quality improvement. His ideas include aligning course materials and utilizing ATI extensively. Abusalem has set the priority of improving the NCLEX scores and marketing.
"I appreciate the leadership skills that he brings to this position as he has been very successful with chairing the Appointment, Promotion, and Tenure (APT) Committee, Chairing Faculty Search Committee and serving on the Faculty Affairs committee," Dean Sonya Hardin said.
Abusalem has also served as vice-chair of Faculty Organization and will assume the role of Chair later this semester. At the University level, he has served as a faculty senator and currently serves on the University Faculty Grievance Committee.
Abusalem is replacing Dr. Diane Chlebowy who has been provided administrative oversight for the program since October 2014. She is retiring from the University of Louisville to accept a position as Dean of the School of Health Sciences at Midway University.
"I have enjoyed this program very much and look forward to my next leadership opportunity," Chlebowy said.