UofL nursing graduate exemplifies award by giving it back
March 16, 2022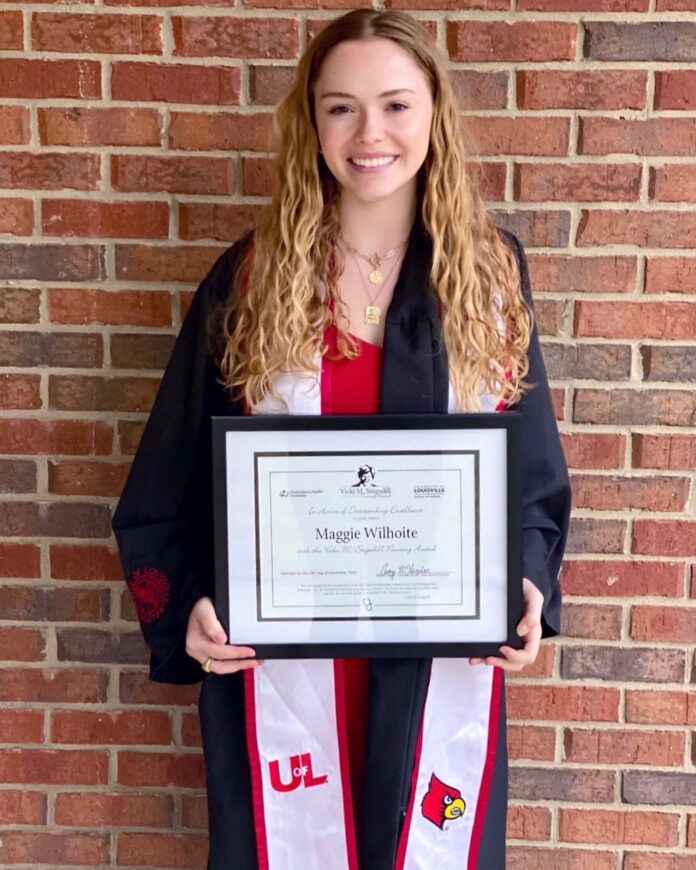 Maggie Wilhoite knew in third grade she wanted to spend her life helping others.
Inspired by those who cared for her grandmother with dementia and a cousin with cystic fibrosis, the Owensboro native became a nurse, graduating in December from the University of Louisville School of Nursing Owensboro program.
At the senior awards ceremony prior to graduation, Wilhoite was surprised to find out she won the Vicki M. Stogsdill Award, which specifically honors program students for having "the courage to be a servant-leader." Winners receive $5,000 and commit to working for one year at Owensboro Health.
In keeping with the award, Wilhoite recently asked if she could return a portion of it for the benefit of other students.
"I want this award to reflect all of us, not just me," she said.
Amy Higdon, assistant dean of Owensboro BSN Programs and assistant professor in the School of Nursing, said the award is named after Vicki M. Stogsdill, the retired chief nursing officer of Owensboro Health.
"She always practiced servant-style leadership," Higdon said. "The Owensboro faculty has the privilege of selecting the recipient of this award each semester and when considering which applicants embodied servant-style leadership, Maggie was a frontrunner."
Important components of the program are service learning projects throughout the Owensboro community and a senior project completed during the Global Public Health course. Wilhoite asked the $2,000 she returned be used to help with these projects.
"Students can allocate the funds as they see fit, whether it be to enhance their project or donate to the community organization they collaborate with," said Wilhoite, who grew up on an Owensboro farm.
Wilhoite said she applied for the award "on a whim," and was shocked when she won. 
"There are 14 members of my graduating cohort. Each of us brings something special to the table," she said. "We survived nursing school during a historically adverse time in health care. We are entering the nursing profession during uncertain times. We have all exhibited resilience and compassion, which are necessary traits for nurses. Any one of us would be more than deserving of this award."
Because she graduated debt-free, she said, "I would not feel right accepting a servant-leadership award and keeping it all for myself if I am not struggling financially."
Wilhoite said she told her mother she wanted to become a nurse in the third grade and she hopes to someday be able to use her skills on a medical mission trip. She credits her supportive family with helping her earn her degree.
"I want to be a part of something bigger than myself," she said.
UofLNews contributed to this story. View UofL News post.