Fellowship Programs
When applicants come to visit us, we're often asked, 'What sets UofL apart from other fellowship programs?'
Who We Are/Program Contact Information     |     Application Process/Requirements     |     Facilities     |     Living in Louisville
---
When applicants come to visit us, we're often asked,
"What sets UofL apart from other fellowship programs?"
It's difficult to choose what we love best about it! Simply put, our fellowship programs train well-rounded physicians who are ready for the next step of their careers in a fun and challenging environment.
Here are some of the highlights:
Excellent mentorship - All of our fellows receive professional mentoring throughout their training terms at The University of Louisville.
Diverse pathology - Having two major teaching sites – a UofL Health - UofL Hospital that serves as both a tertiary referral center and a hospital for the local urban population, and a VA Hospital – guarantees a wide range of patient care activities.

UofL Health - Jewish Hospital

(a downtown community hospital) as well as several other private hospitals and doctors' offices round out our fellow's experiences.
Collegial environment - Our fellows and faculty are simply THE BEST! We strive to create a learning environment that encourages a strong sense of teamwork. We have very high expectations for our fellows, but we give you the tools to meet those expectations, and we have some fun along the way.
Balanced autonomy and supervision - Our graduates frequently tell us once they get "out in the world" they realize exactly how well they have been clinically trained. We attribute this to maintaining a careful balance between autonomy and supervision in our programs.
Research and Scholarship Opportunities - We have many opportunities for fellows research in all of our programs.
We look forward to your virtual interview, and hope to welcome you to The Ville!
---
Who We Are
Specialty Programs
Follow the links for more information and application requirements for the following programs:
---
Application Process and Requirements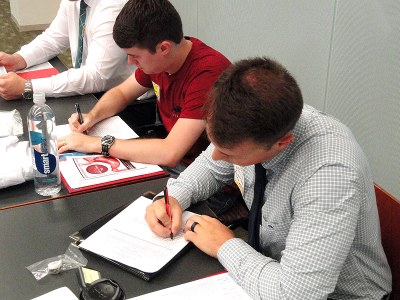 The UofL Medicine fellowship programs are open to all eligible applicants regardless of race, color, national origin, sex, disability, or age.
---
Where We Work
UofL Physicians Outpatient Center
401 East Chestnut Street
Louisville, KY 40202
Web site
UofL Health - UofL Hospital
530 South Jackson Street
Louisville KY, 40202
Web site
UofL Health - Brown Cancer Center
529 South Jackson Street
Louisville, KY 40202
Web site
Robley Rex Veterans Affairs Medical Center
800 Zorn Avenue
Louisville, KY 40206
Web site
UofL Health - Jewish Hospital
200 Abraham Flexner Way
Louisville, KY 40202
Web site
Norton Hospital
200 East Chestnut Street
Louisville, KY 40202
Web site
---
Living in Louisville
Louisville is a wonderful place to live! Many residents live in areas that have the feel of a neighborhood but are conveniently located very close by the hospitals where they work.
Louisville embraces all. Whether it's the compassion of the people, our diversity of backgrounds, or the variety of things to do, you can find your niche and lead your best life.
Louisville is the home of the world-famous Kentucky Derby, Louisville Cardinals sports, as well as a variety of other sports activities including the Louisville Bats baseball team, the two-time USL champion Louisville City FC soccer team, and the new Racing Louisville FC of the National Women's Soccer League.
There are wonderful restaurants and festivals that occur throughout the year and Louisville is home to people from all over the world, creating a community that is very culturally diverse.
Frequently named on "top ten" lists for everything from excellent food to the arts, including a 2019 top 10 city for happiest workers in the U.S. and a top 15 city to where millennials are moving, Louisville offers the amenities of a city but with the welcoming atmosphere of a town.
For more information on all things Louisville, check out GoToLouisville.com.