Hiram L. Rivas, M.D.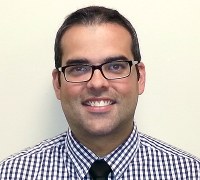 Associate Professor of Medicine
Director, Pulmonary Function Test Laboratory
UofL Physicians Outpatient Center
401 East Chestnut Street, Ste. 690
Louisville, KY 40202
502-852-5841 - Academic Office
502-588-4710 - Patient Appointments
---
Clinical Expertise
Pulmonology; Critical Care Medicine; Lung Cancer; Chronic Obstructive Pulmonary Disorder; Asthma; Pulmonary Rehabilitation
---
Board Certifications
American Board of Internal Medicine -
Pulmonary Disease / Critical Care Medicine
Education and Training
Medical School: University of Puerto Rico
Residency: University of Puerto Rico Hospital
Fellowship: The Ohio State University
---
Featured Publications
Schneider G, Kaliappan A, Nguyen TQ, Buscaglia R, Brock GN, Hall MB, DeSpirito C, Wilkey DW, Merchant ML, Klein JB, Wiese TA, Rivas-Perez HL, Kloecker GH, Garbett NC. The Utility of Differential Scanning Calorimetry Curves of Blood Plasma for Diagnosis, Subtype Differentiation and Predicted Survival in Lung Cancer. Cancers (Basel). 2021 Oct 23;13(21):5326. doi: 10.3390/cancers13215326. PMID: 34771491; PMCID: PMC8582427.
Nguyen QL, Reynolds SB, Piri N, Rivas Perez HL. Ophthalmic anterior segment metastasis masquerading as uveitis. BMJ Case Rep. 2021 Mar 2;14(3):e236405. doi: 10.1136/bcr-2020-236405. PMID: 33653830; PMCID: PMC7929850.
Dransfield MT, Garner JL, Bhatt SP, Slebos DJ, Klooster K, Sciurba FC, Shah PL, Marchetti NT, Sue RD, Wright S, Rivas-Perez H, Wiese TA, Wahidi MM, Goulart de Oliveira H, Armstrong B, Radhakrishnan S, Shargill NS, Criner GJ; LIBERATE Study Group:. Effect of Zephyr Endobronchial Valves on Dyspnea, Activity Levels, and Quality of Life at One Year. Results from a Randomized Clinical Trial. Ann Am Thorac Soc. 2020 Jul;17(7):829-838. doi: 10.1513/AnnalsATS.201909-666OC. PMID: 32223724; PMCID: PMC7328183.
Criner GJ, Sue R, Wright S, Dransfield M, Rivas-Perez H, Wiese T, Sciurba FC, Shah PL, Wahidi MM, de Oliveira HG, Morrissey B, Cardoso PFG, Hays S, Majid A, Pastis N Jr, Kopas L, Vollenweider M, McFadden PM, Machuzak M, Hsia DW, Sung A, Jarad N, Kornaszewska M, Hazelrigg S, Krishna G, Armstrong B, Shargill NS, Slebos DJ; LIBERATE Study Group. A Multicenter Randomized Controlled Trial of Zephyr Endobronchial Valve Treatment in Heterogeneous Emphysema (LIBERATE). Am J Respir Crit Care Med. 2018 Nov 1;198(9):1151-1164. doi: 10.1164/rccm.201803-0590OC. PMID: 29787288.
Rivas-Perez H, Nana-Sinkam P. Integrating pulmonary rehabilitation into the multidisciplinary management of lung cancer: a review. Respir Med. 2015 Apr;109(4):437-42. doi: 10.1016/j.rmed.2015.01.001. Epub 2015 Jan 22. PMID: 25641113.
Rivas-Perez H, Carbone DP, Nana-Sinkam SP. Highlights from the latest articles in lung cancer personalized medicine. Per Med. 2014 Jun;11(4):377-379. doi: 10.2217/pme.14.18. PMID: 29783480.