Fellow News
Fellow News
Congratulations to our graduating fellow for 2017, Dr. Aziz Rehman.
---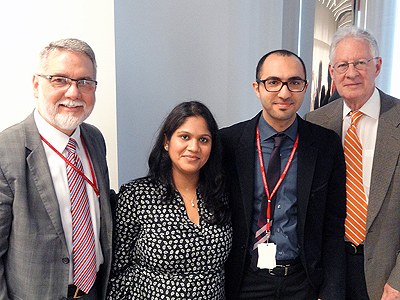 Congratulations to our graduating fellows for 2016, Drs. Manikya Kuriti and Ali Jamalallail.
---
Former fellows, Kateryna Komarovskiy, Dragana Jokic, Marjan Karegar with current Fellow, Ali Jamalallail and faculty member Sathya Krishnasamy.
---
Congratulations to Dr. Arshpreet Kaur (middle), our graduating fellow for 2015.


---
Congratulations to graduated fellow, Swapna Dharashivkar. M.D. for placing first in the Research Louisville poster competition!
She was awarded the Clinical Fellows Abstract Award in Women's Health Supported by Pfizer at ENDO2013.
---
Graduated fellow Hope Torregosa, M.D., was awarded the first place poster award at the AACE 2012 annual meeting.