AHEC Program Office
About AHEC
AHEC is a collaborative effort of the University of Louisville Health Sciences Center, the University of Kentucky Medical Center and eight regional centers. The AHECs work to improve the recruitment, distribution and retention of health care professionals (particularly in Primary Care) in medically under-served areas throughout the state commonwealth.
Each regional AHEC center serves a specific geographic area of the state, and is responsible for certain counties in their area.
What does AHEC do?
AHEC connects the academic health education programs at the University of Louisville and the University of Kentucky with medically under-served communities throughout the Commonwealth. This unique University/Community partnership brings together educators, community practitioners, health institutions and agencies along with health professions students to address Kentucky's long-standing health care access problems.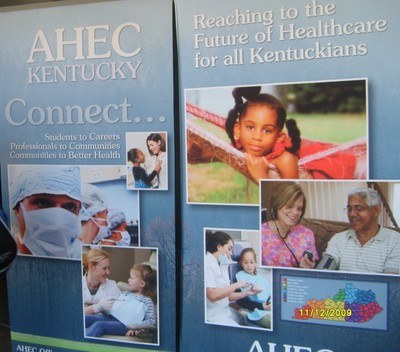 AHEC Goals
The goals of the Kentucky Area Health Education Centers (AHEC) Program are to improve the distribution, quality, utilization and efficiency of health care personnel. Each year, approximately 4,470 students from medicine, nursing, dentistry, allied health, public health, pharmacy and social work complete clinical learning experiences in the the Kentucky AHEC Program.
To read more information about the University of Kentucky's AHEC Program Office, please visit their official webpage at: http://ahec.med.uky.edu/