Global & Underserved Health
Experiences at Home and Around the World
At the University of Louisville we understand that exposure to diverse experiences and patient populations is important for all physicians.  Our aim is to provide all residents with didactics, workshops and clinical experiences on core rotations that lead to an understanding of the impact of geography, society and cultural resources on health. Residents are encouraged to build onto this foundation to achieve their career and special interest goals - which are fostered during Med-Peds advising appointments. This may include entering the Global Health Distinction Track, completing a domestic or international global health elective, volunteering or advocating or all of the above! 
Pediatric Global Health Distinction Track
| | |
| --- | --- |
| Our Med-Peds residents who are interested can apply and participate in an additional Global Health longitudinal track that features curriculum incorporating seminars, workshops and online modules. This track also includes completion of either an international or domestic global health elective (or both). | |
Global Health at Home: Poverty & Social Justice Elective 
This rotation is available for all residents, but can contribute toward completion of Global Health Distinction Track. During this four week rotation, residents build relationships with community partners through work with local refugee populations, Family Health Centers and other community organizations serving low resource populations. A favorite experience of our residents is an exercise in learning the obstacles to feeding a family in a food desert utilizing SNAP and experiencing the challenges of public transportation to make it to a medical appointment on time.
Residents have the ability to partner with community organizations and perform research/community engagement that will fulfill scholarly activity requirements.
Global Health Abroad: International Rotation Electives
The Division of International Pediatrics and the Office of Medical Education established collaborative agreements between University of Louisville and medical schools and teaching hospitals at two sites - Ecuador and Ghana.  Pediatrics currently has agreements with hospitals in Quito, Ecuador  and Tamale, Ghana, and are continually seeking additional international opportunities. Reporters joined one of our Med-Peds graduates, Dr. Josh Yuen, and our pediatric faculty in Tamale in 2015 and shared their experience. Residents are encouraged to identify their own international opportunity that aligns with their specific focus. We have had residents go to various destinations throughout the world, such as Nicaragua, Togo, Ethiopia, Nigeria, Haiti and Turkey.
"Never did I think I would learn so much about another country, another culture, about being a doctor, about pediatrics and about myself." --Ilana Kayrouz, MD
 The main goal of this rotation is to develop a global perspective on child health through the practice of medicine in a less industrialized setting and a different cultural setting. Below are specific goals of the rotation: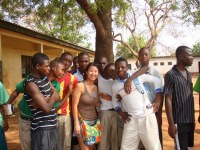 To develop a global perspective on child health through the practice of medicine in a less industrialized setting and a
different cultural context
To improve physical diagnostic skills through clinical experience in a less sophisticated technological setting
To develop professional values through exposure to different philosophies of medical ethics, patient-provider relationships and child rights
To acquire the attitude and skill to provide adequate assessment of the health care needs of children from another culture and nation upon completion of the international elective
To acquire the skills to provide basic pre-travel care for patients traveling to other regions of the world (i.e.: vaccinations, malaria prophylaxis, prescriptions for traveler's diarrhea, counseling regarding safe food and water).
Greater Louisville Medical Society & Hand-In-Hand
The 
Greater Louisville Medical Society
 also offers annual trips to local under-served and international trips. Our Med-Peds residents are in great demand as they are able to provide care for children and adults. The Greater Louisville Medical Society foundation sponsors trips in partnership with Hand-in-Hand ministries. Each year approximately 19 healthcare professionals, including neuro-surgeons, pediatricians, and obstetricians go on the trip bringing medical supplies and expertise.
UofL School of Medicine & Timmy Global Health
Our rising MS2 students plan and execute an annual trip to the Quito, Ecuador area in partnership with
Timmy Global Health.
 They are always seeking valuable Med-Peds Residents as preceptors and it's a great opportunity to teach while experiencing an international global health rotation.
Global Health Bonus Points: Scholarly Activity & Service
We have had Med-Peds residents that have created curricula for their peers, initiated research projects and presented case reports stemming from their global health experiences. We also have a Medical Spanish Elective and a pediatric faculty member who mentors residents through this experience. Many who complete this rotation continue volunteering in her primarily Spanish-speaking clinic. Residents who wish to practice these language skills further may enjoy volunteering as a preceptor at one of our medical student free clinics with a large Spanish-speaking population. There are numerous opportunities to volunteer and advocate for our local underserved patient populations through our PUSH (Pediatricians Urging Safety and Health) organization and we have had a resident obtain and execute an AAP Catch Grant surrounding our patients in underserved areas.