---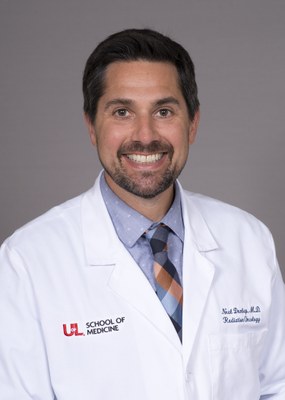 Neal E Dunlap, M.D.
Professor and Chairman
Message from the Chairman:  
Thank you for your interest in the Department of Radiation Oncology at the University of Louisville School of Medicine. We hope the information included on our web page will give you insight into the many developments taking place in our department. The Department of Radiation Oncology is a vibrant clinical department devoted to providing superior medical care for the adults and children of Kentucky and Southern Indiana.
As leaders in cancer care, the Brown Cancer Center Radiation Oncologists strive for excellence in patient care, research, education, and outreach. We are not only experts in radiation therapy and in the application of cutting-edge cancer-fighting technology and techniques; we also individually specialize in specific types of cancer. We work as an integral part of multidisciplinary cancer teams that come together to develop tailored and individualized treatment plans for each cancer patient, as well as part of the radiation therapy team of physicists, dosimetrists, nurses, social worker, therapists, dietician and chaplain to deliver high quality patient care.
We initiate and collaborate in clinical and laboratory research aiming at new discoveries, and engaged in the education of students, trainees, professional, employees and the public. We subscribe to the core values of integrity, caring, mutual respect and discovery. Education of medical students, radiation oncology residents, residents from other specialties is our priority. The residency training program provides house officers with a rich exposure to a large and diverse patient population of individuals with unique cancer cases under the close supervision of expert faculty in radiation oncology. State of the art clinical care coupled with extensive clinical mentoring by faculty make our training program unsurpassed.
Cancer patients are often seen as marginalized in society.  We strive to provide the best service to our patients, and to treat each and every patient with respect, compassion, and commitment.  We desire to advocate equal and world class care for all people.
The fight against cancer is one of the most daunting challenges confronting our health care system today. And nowhere in the United States is that battle raging more fiercely than right here in Kentucky.